The LRT2 light-rail line that runs from Recto to Santolan in Marikina allows riders to bring their folding bikes (only in the last coach, and only up to 4 folded bikes per train)
Yesterday's Marikina City Mapping Party is the first field mapping activity organized by MapaTime! - and our first activity for the 2019. Also, the last the local OpenStreetMap community organized such an activity was back in 2016. This time, we also encouraged people to bring their bikes (or skateboards, and kick scooters)
The early Sunday ride was pleasant, and the coaches barely full
And because I missed the earlier train, I was late for the 06:30 breakfast briefing. Our early birds: Gillian, Ruby, Rap - all first timers, we're already asking in the Telegram channel about where everyone is. They got Mapillary schwags (tees, phone holders) for coming in early!
Breakfast briefing on OpenStreetMap and FieldPapers
As soon as we had enough people, I gave a short introduction to OpenStreetMap and guidelines on how (easy it is) to use FieldPapers. We then had breakfast, and gave the stragglers a few more minutes.
FieldPapers Atlas of the area of interest
All-in-all, we had 14 people who showed up. Some were students (the youngest participant is a university froshie), a number of people work for government agencies who are interested in utilizing OSM, and three others who are from the private sector, checking out how OSM might be used in their business.
The team who dubbed themselves as "Walkerz" were assigned to work on grids along two major roads using FieldPapers.
Team Walkerz photos. © 2019. Arnalie Vicario.
Meanwhile, the cyclists, "Team Padyak" divided the surrounding areas into 4 large quadrants and collected street-level imagery using Smartphones + Mapillary or Action Cameras.
A very brief briefing for Team Padyak
(Disclosure: Actually, that's "all cyclists except for one" - I went home, excited to upload the collection, only to find a memory card with three useless photos :roll_eyes: As penance for my sins, I woke up early today and went around my city to fill-in the street-level photo blanks. :biking_man: )
Team Padyak - the cycling team collected photos using Mapillary (and some Walkerz photo-bombing us. :rofl:
And off we went to our own assignments. Later, we met up in another location for lunch, and shared about individual experiences, including tips about how they went about their assignments.
Bunny and Ruby, sharing experiences and showing some of the photos they collected on their Mapillary app.
And we continued our conversations over lunch, discussed future plans, and generally had fun for this month's MapaTime!
The following group photo was taken after the field work, and everyone still looks fresh !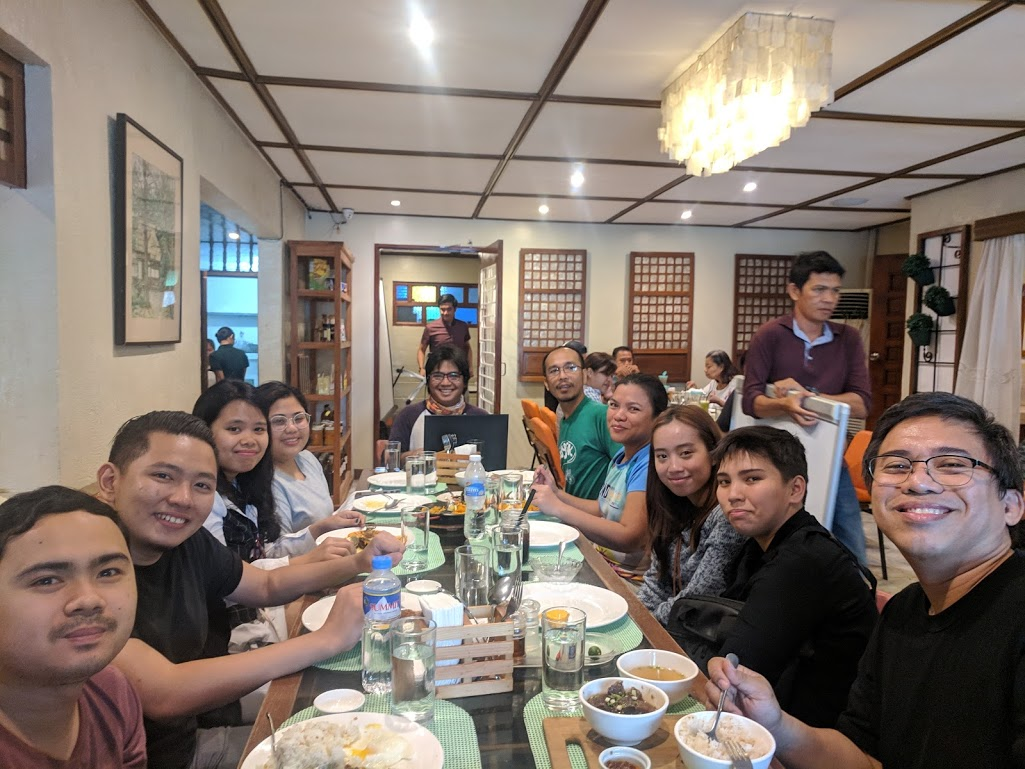 I hope everyone else enjoyed the activity - I know I did! Looking forward to meeting you all again in our next MapaTime! session.
Location:
Sss Village Phase-1, Concepcion Dos, Marikina, Metro Manila, 1811, Philippines