I only recently realised that HOT contributors need to mark at least one task as "done" to be listed as project contributor in the tasking manager. This made me wonder: how many people start contributing to a HOT project but never finish their first task? What proportion of all HOT edits are contributed in this manner?
Summary: about half of all HOT contributors never complete their first task on a project, although they do contribute to the map. These "partial" contributions account for 10-20% of all HOT edits.
Here's a timeline of the number of monthly HOT contributors, compared with the number of those who completed at least one task: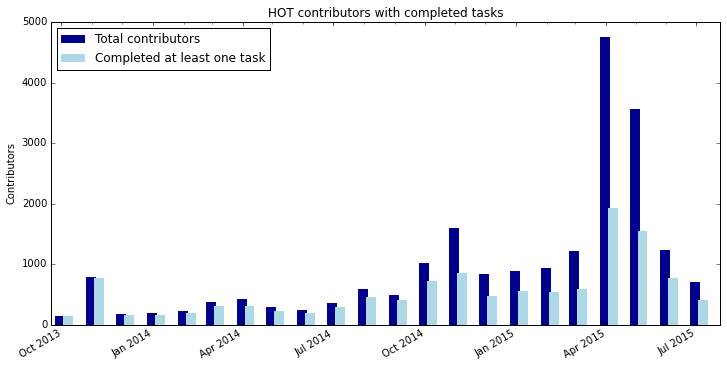 And here the corresponding timeline of the number of edits contributed by both groups of people:
Expressed as percentages: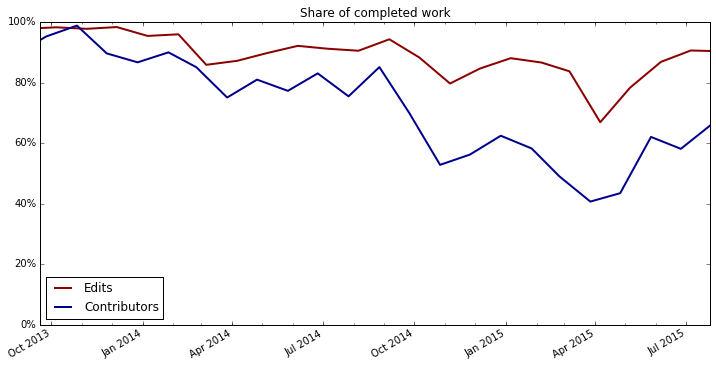 We don't know why these contributors never completed the task, we can speculate but really we would need to ask them. Some may have forgotten to close it after they were done, some may not have had the confidence to mark it as "complete" and wanted someone else to have a second look, some may have gotten distracted, or lost motivation, etc.
It's also worth bearing in mind that we can always expect some proportion of tasks to be abandoned early: not everyone is interested in contributing to HOT in the long term. Many people are likely simply curious and try it out for a bit. Many may have come across HOT because a friend sent them a link, or because it was in the news, and we can't expect all of them to stick around.
However we should also be mindful of these early experiences. On one hand we can improve our understanding of what makes people stop early. On the other hand we should also consider the impact these contributions have on our map, and on validation and QA efforts. Where should we send absolute newcomers the next time we're in the news?
---
Some background info on the analysis…
I'm identifying HOT contributions in the OSM edit history as follows:
The contribution needs to fall within the geographic boundaries of a HOT project
The contribution needs to happen within the activity period of the HOT project
And then…

EITHER the user is a listed project contributor (they marked at least one task as done),
OR the changeset is tagged with a valid HOT project ID (the contributor never marked a task as done, but likely did start a task in the tasking manager before contributing edits.)
There are some caveats with this data:
In this analysis, one completed task by a contributor is enough to regard all their contributions to the same project to be marked as "done". The simple heuristics above do not allow me to distinguish task completion states for all individual changesets of a contributor to a project.
We can't distinguish contributors who never mark a task as "done" from validators, or expert contributors who manually tag changesets with a project ID. We don't have the data to distinguish these cases, e.g. there is no published list of validators to compare against.
We can only reliably track this from Aug 2014 when iD started carrying over project-specific changeset tags from the tasking manager. We won't be able to identify "unsubmitted" contributions before then.
---
By Martin Dittus (@dekstop) in 2015.