Hallo! My name is Martin Dittus, and I'm a PhD student at the ICRI Cities at University College London. I research community engagement in the Humanitarian OpenStreetMap Team (HOT), a volunteer initiative with thousands of contributors. At its core this is quantitative work, and my main outputs are statistics and data visualisations. I also spend a lot of time with the HOT community, am a contributor myself, and have spent much of the last decade with a range of similar community organisations.
I like that my job allows me to combine my experience in large-scale data analysis with my personal interest in community organisations. I spend a lot of time exploring data sets, producing things like this: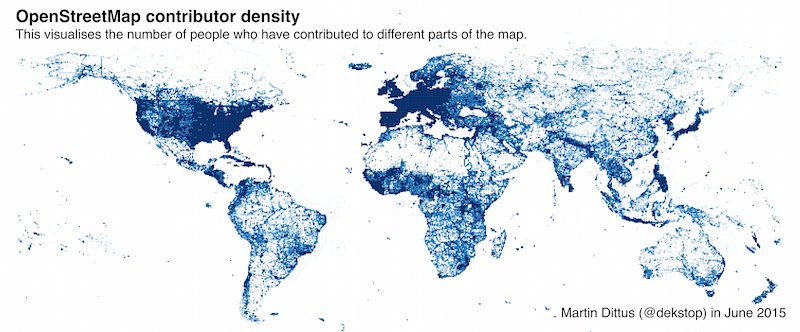 A big part of my work is about developing means to reason about HOT as a social phenomenon. I make use of "hard" evidence of data sources like the OSM edit history, but also the "soft" evidence of knowing the practices and motivations of the community. Together they allow me to develop conceptual models that help us reason about HOT. (I strongly believe you need both.)
In conversations with other community members and HOT organisers I realised that a lot of the data explorations I produce can be of interest to a wider audience. In early May 2015 I gave a talk at the HOT Summit under the title "Contributor Engagement in Humanitarian Mapping". The feedback I received was overwhelmingly positive, and there was quite a lot of debate afterwards. Then Alyssa Wright approached me and strongly suggested to find more public forms of sharing my findings. I shall aspire to do so! I can't promise a regular schedule, but I'm keen to share my observations.
In particular, I noticed that many people have a lot of experience about how to make HOT work, but also that people's perspectives tend to be local: they are focused on particular aspects or initiatives. This is in the nature of the practice, which is highly distributed across dozens of interest groups and concerns. As a result few people have a good global overview of what HOT is and how it works. In addition to these local experiences I think there is also an opportunity to develop a broader understanding of HOT, and I think I can contribute to that.
This may take different forms:
Analytics and visualisations that highlight key contribution patterns.
Contextualising the data: what do the numbers mean?
Conceptual models, for example reasoning about coordination tactics.
Evidence to substantiate design choices: currently, HOT planning decisions are often intuitive rather than evidence-based.
Critical thinking about community and coordination activity.
You can follow me at @dekstop where I will announce any future posts. I will also highlight key projects on my personal website.
Location:
Fitzrovia, London Borough of Camden, London, Greater London, England, W1T 6AQ, United Kingdom
---