I've been closely involved with the journey Rapid is on. The first version of Rapid was released in 2019 as the first OSM editor that added machine learning-derived layers you could easily add to OSM in one click: roads from Meta and building footprints from Microsoft. This groundbreaking work enabled efficient, but human powered adding of vetted external data to OSM, and continues to be one of the most widely used methods for doing so. Since the original launch, a collaboration with Esri's community data program added many additional layers of authoritive data available to add to OSM in the same way.
As government agencies continue to make more data available to OSM through Rapid (around 145 as of now, with hundreds of millions of features), work on version 2 started in early 2022. Developers Ben Clark and Bryan Housel presented the early stages at State of the Map US in Tucson last March, and followed up with a more technical talk about the underlying technology changes at FOSS4G in Firenze. Alpha versions of version 2 have been circulating since then. I have been using these extensively, especially in the past two months. I've been barraging Ben and Bryan with bugs and feature requests, as have many others who have participated in the alpha testing phase. A ton of issues have been resolved since the first alpha release, and we're very happy with where we are with Rapid 2.0. Happy enough to launch version 2 beta today! 🎉
What's new in Rapid 2.0
If you haven't used Rapid at all yet, this is a great opportunity to try it for the first time. Many things will feel familiar if you've used the built-in editor on openstreetmap.org, but you will also notice small conveniences you won't find there—or anywhere—like a shortcut to quickly cycle through highway types when you have a way selected, "virtual nodes" that are displayed for polygons with POI tags and improved polygon labeling: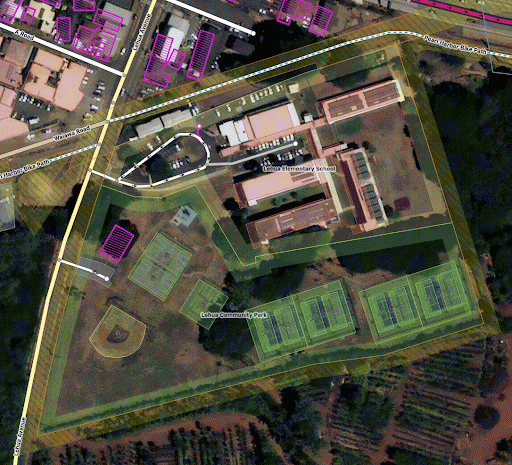 The main thing I think you will appreciate is how snappy Rapid feels. The majority of the work on Rapid 2.0 has gone into perfomance improvements. The rendering engine has been completely rewritten from the ground up. The snappiness is especially apparent when panning and zooming the map, especially in areas that are mapped with a lot of detail.
Rapid can now also show more map data at lower zoom levels, so it's easier to see what is mapped even if you are zoomed out. This has helped me map much more efficiently. And at the rate OSM is growing, editor performance becomes ever more important for any mapper!

More data shown in new Rapid (left) vs old (right)
Innovations in OSM mapping
Within the last couple of years, we mappers have enjoyed a rapidly (ha-ha) expanding choice in mapping tools: StreetComplete has grown tremendously, Every Door has come on the scene as the first POI focused mobile editor, GoMap! is actively being developed with exciting innovations (magnifying glass, capturing opening hours using phone camera). On the desktop, MapComplete shows us a new way of topic- and task-based editing. My expectation is that Rapid will bring more unique capabilities to the landscape of OSM editors, and I can't wait to see what's next.

Happy Mapping!

Location: 9th & 9th, Salt Lake City, Salt Lake County, Utah, 84102, United States