Today I am super excited to announce Idly-Gl! It is an opensource Mapbox GL plugin which renders OpenStreetMap data.
What is Idly-Gl?
Idly-Gl is a small plugin which reads data from Openstreetmap's API and renders it on any Mapbox GL map. Click here for a demo.
What is IDLY 🍚?
Idly is an Indian rice cake 🍚. I picked this name as it can be the little brother of iD editor.
Why did you create it?
I work with a lot of Mapbox-gl maps and I am very impressed with their speed and portability. I have also worked with iD editor and it has impressed me with the way it handles OSM data. The only problem is that these two don't talk to each other well. To bridge the gap, we would have a button to open it in iD. This works well when you have to make an edit, but if a user just wants to inspect/visualize OSM data the only option is to open the OSM website.
What does it do?
😎 It renders live osm data on a mapbox-gl map, which makes it blazingly fast.
👯‍♀️ It tries to mimic iD editor's familiar styling.
🕵 Dig deep into OSM entities, by interacting with them.
💪 Add to any existing Mapbox-gl map to give it OSM superpowers.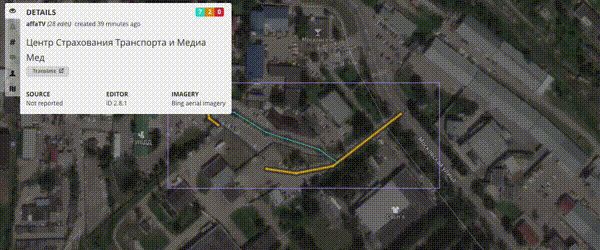 What is next?
Idly-gl already does an impressive 3d buildings. I plan on adding some advanced 3d visualization of OSM data, provided Mapbox-gl supports it.
The Openstreetmap 's entity inspector provides a nice way to inspect an entity. I imagine Idly-gl doing the same thing. There are certain features like viewing the history or the changeset which are not yet there in Idly-gl, but I have plans to add them.
If all goes fine, I think being able to search would be great. I imagine putting a query like highway=* and Idly-gl only shows all the highways on the map.
I also wanna try to add some sort of linting into Idly-gl. There are already some great rules at osmlint, which I feel can be used to highlight entities which violate any selected linting rule.
Currently it just visualizes Turn restrictions. I plan on adding more Restriction visualization, but the tricky part is how to best visualize restrictions without the map being too cluttered.
What is the goal Idly-gl?
The goal of Idly-gl is to be a highly customizable developer tool which helps the developers add powerful OSM data inspection/visualization into their apps.
How do I add it to my website?
I am glad that you want to give it a try, head over to the Github repository Idly-gl!
Where can I play with it?
*(Tip: If you want to see the 3d buildings, make sure you switch on 3d extrusion layer)*
Final thoughts
Idly-gl is currently very new and I am super excited to talk about it. I would really appreciate if you could try it out and give me feedback or ideas on how to further improve this tool and help OSM community build amazing things on top of it.