Which popular editors do we have now? According to statistics, three of these: iD, JOSM and Potlatch 2. The next four editors are mobile: Go Map, OsmAnd, Vespucci and Pushpin each have a thousand of users. Today there is another one, which now has less than a hundred users, but aims to go for the first place: MAPS.ME.
As you might know, MAPS.ME is a popular app for using OpenStreetMap data on a phone or a tablet. It has geocoding, routing (using OSRM engine), bookmarks and 3d-buildings. It runs both on Android and iOS devices, and it is very fast. Obviously it works offline: you just have to download some countries. Besides speed, MAPS.ME is known for simplicity: even I can understand which buttons to press, without examining every control and menu item first.
Just now we have released the first major update this year. It has better geocoding (and reverse geocoding), smaller regions (no bigger than 70 MB, most are below 50) and, the most important change, now it can edit the map! In most POI cards (click on a POI and get one) there are two new options: «Edit place» and «Report a problem». The first one opens a simple (as in, easy to understand) editor for relevant fields: name, address, opening hours. The second one is for leaving OSM notes. Also there is an «Add a place» option on the menu. So yes, it's an editor.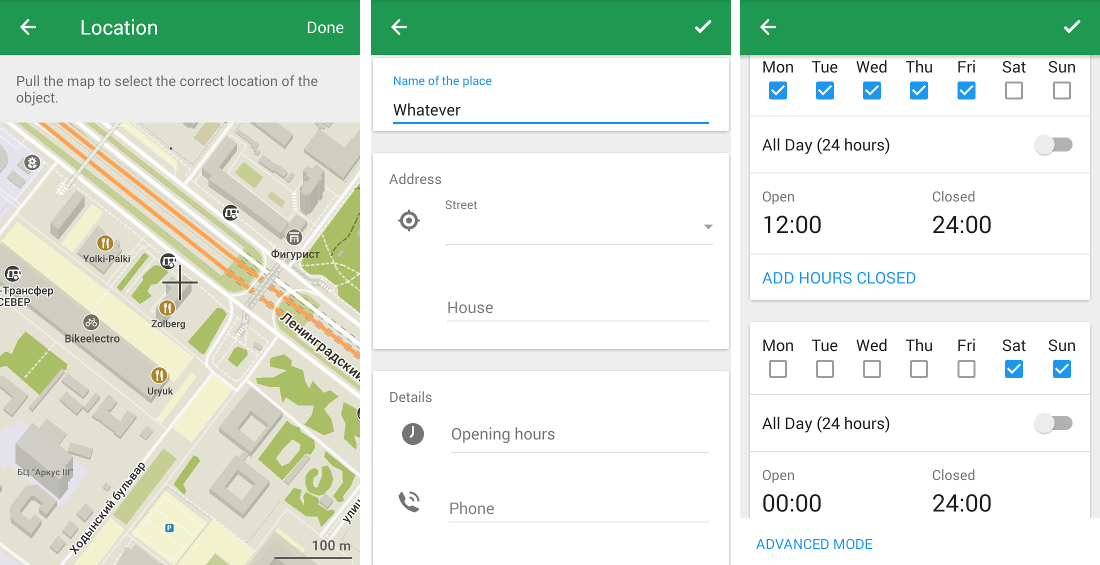 We decided not to build proxy servers, but to connect each of our users directly to OpenStreetMap. Which means, there is a sign in / sign up option that pops up when you edit a feature. It uses OAuth, obviously, and for new users it promotes using Facebook / Google authorization. So, every MAPS.ME user that edits the map submits their confirmed e-mail, so you can contact them. It works, as I have contacted some of the users during the beta testing.
OpenStreetMap currently has 25-30 thousands of users editing monthly. MAPS.ME has more than 7 million monthly active users. So I assume that in time it would be the most popular way for adding and editing points of interest in OSM. You can monitor edits made with the application: that service will most likely break when there is more than 5 edits per minute, but for now it works. When you see a mistake, "Level0" button is the fastest way to fix it.
I've been using MAPS.ME editor for two months, and it is good. I have finally added and refined POIs around my house, and I add new objects each time I go somewhere. Because it is so easy, and because I use the application for navigating anyway. I have been saying since Autumn that mobile editing will be the next step of OpenStreetMap development, and now we can witness it in real time.
If (when) you encounter a bug, please write to bugs@maps.me. The next release is planned for the end of the month, so with your help we can make the editor even better. We know some of drawbacks: incomplete type list, users can add the same feature multiple times, no notifications for sent changes, non-native facebook/google authorization. Most of issues will be fixed by the next version, but we would like to hear your opinions on how to make OSM better with this new editor.
Happy editing, and we're sorry you will have nothing to update around your house in a month :)
---