In #Geochicas -women from OpenStreetMap in Latin America-, we want to contribute to the debate on discriminations and gender inequality in the community with concrete data, and also with testimonies. For this purpose, we have built a survey disseminated in the community during most of the year 2017, in 7 languages.
The preliminary results have been analyzed and presented in the State of the Map Latam in Lima in 2017 and Global State of the Map in Aizuwakamatsu in 2017. The full results will be presented at the global State of the Map in Milan in July 2018
While we update the results, I share here the preliminary results, which illustrate the community's experience of discrimination and harassment between genders. The survey has been disseminated on all OpenStreetMap channels and on social networks, repeatedly during 2017.
People from 14 countries answered the survey
33 men and 24 women
About 60% of women have had difficulty expressing a point of view or have felt minimized by men in their community
About 73% of men consider that no one in their community has difficulty expressing themselves or defending their point of view
33% of women have felt hostility from men in their community
82% of men consider that there is no hostility towards women or another sub-represented gender within their community
82% of men and 75% of women would consider necessary to have codes of conduct and friendly spaces in the community
20% of women and 28% of men consider that OpenStreetMap does not have a balanced gender representation
22% of women, and 25% of men recognize that the lack of representation and participation of women negatively affects the data, the map, and community activities
18% of women and 21% of men conclude that because of this inequality, the map and its uses do not benefit the entire population
In conclusion, the men who have participated in the survey perceive in the same way or more pronounced the lack of presence and participation of women, and the negative impact that this has on the ability of the data and the map to represent the needs of the whole society and its diversity.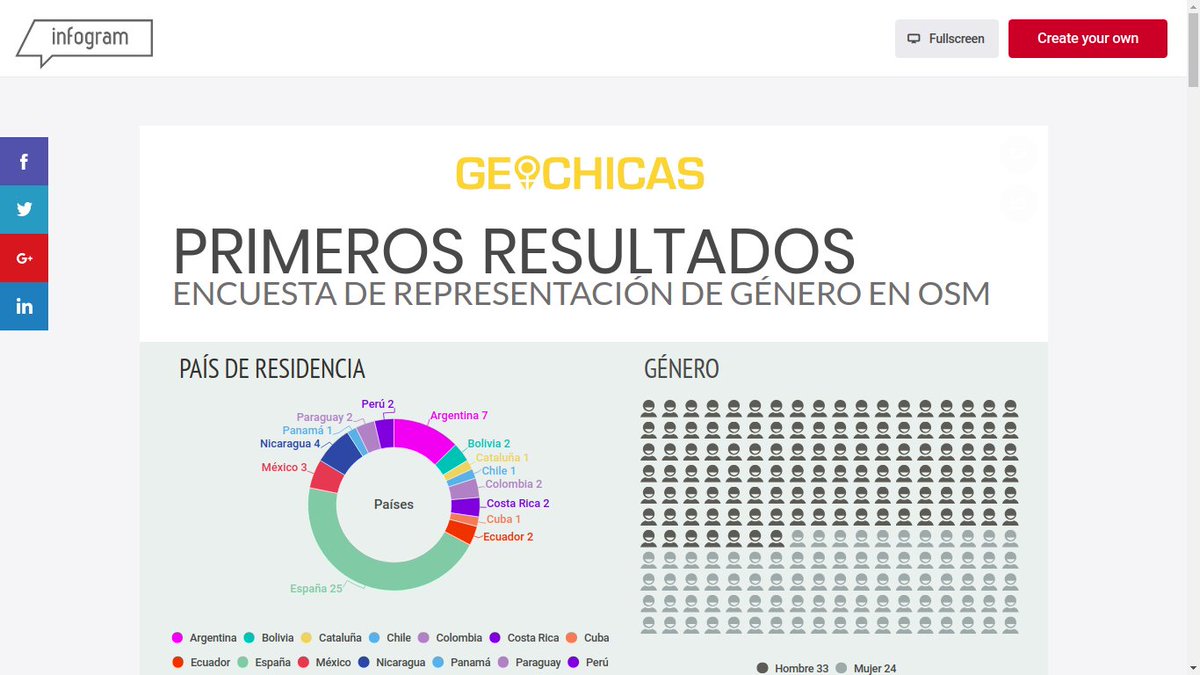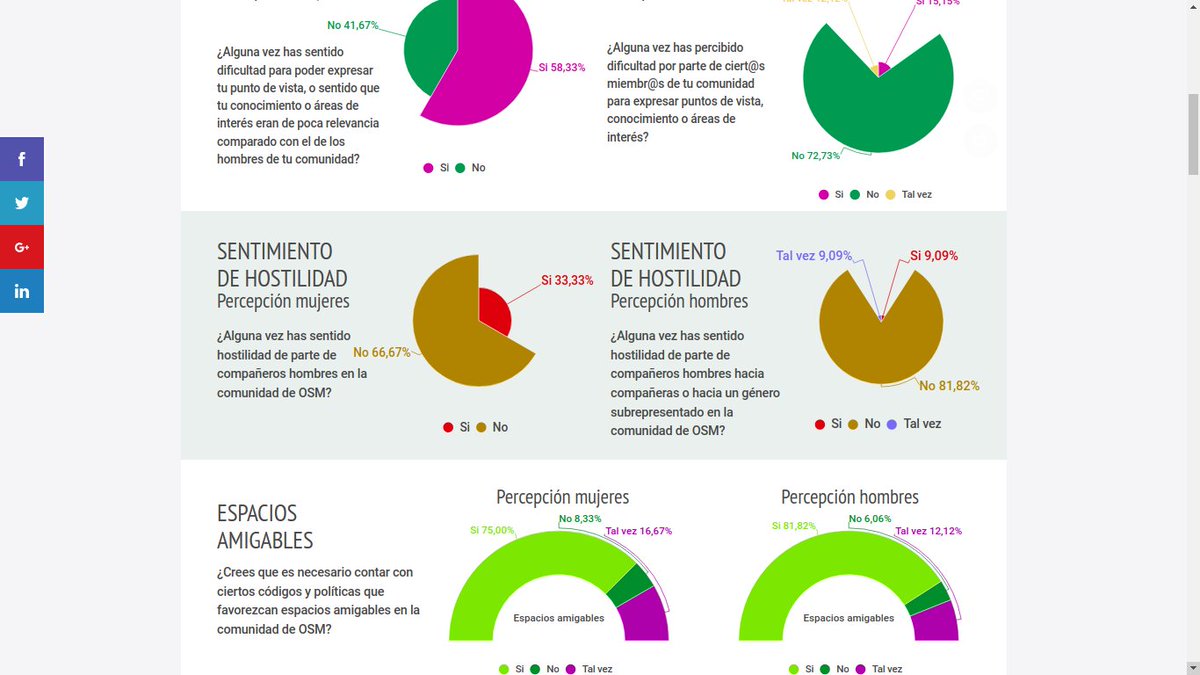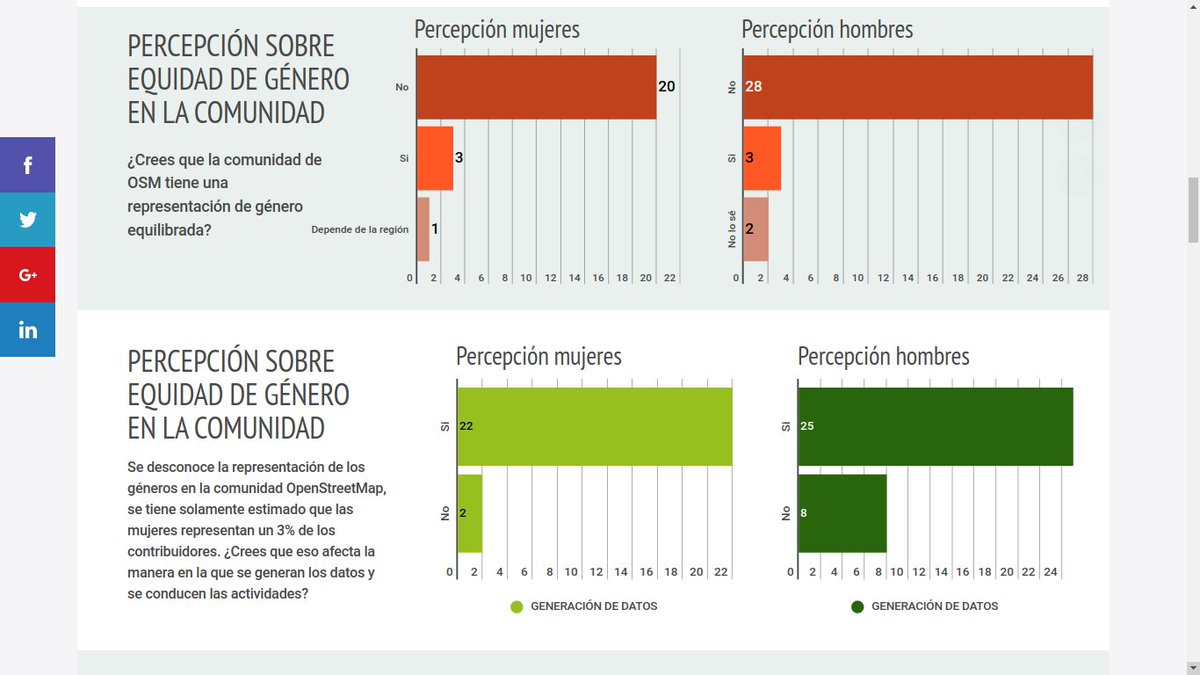 The sampling of the universe population, possibly does not represent faithfully the perception of the whole community. The consideration very commonly expressed by men in forums/lists and OpenStreetMap chats, that the gender inequality in the community is not a problem, let us think that they would not have considered it of interest to answer this survey.
Let's wait for the final results soon at Geochicas.org
The construction of this survey, its translation into different languages to permeate the largest number of local communities, and the analysis and representation of results has been collaborative and has gathered the support of many people, who we thank warmly.
## All women who wish to join the conversations and discussions about gender, can enter the Telegram channel of GeochicasOSM and also all the people are invited and invited to follow us on Twitter @GeochicasOSM
@geochicas @mapeadora
Location:
Algarín, Mexico City, Cuauhtémoc, Mexico City, 06880, Mexico