luckpogbe's Diary
Recent diary entries
Benin OpenStreetMap community
Benin joins the OpenStreetMap global open source mapping community in 2013 at an OpenStreeMap awareness workshop organized by an international HOT volunteer serving in Togo. Benin OpenStreetMa is a young volunteers community who conduct digital and free mapping activities. We have been carrying out voluntary activities to promote OpenStreetMap project to NGOs, international organizations, local authorities, academics, etc. or at local conferences. We organizes open and complete openstreetmap mapping parties via voluntary projects (Cotonou mapping and University of Abomey Calavi, Parakou city, Porto Novo etc.), remote data production with satellite imagery and field data collection. Mapathons are also organized with West African OSM communities and the global OSM community. In a context of limited logistical, financial and human resources, as well as a certain general ignorance of Open Data, each activity becomes a voluntary and passionate commitment. Since our inception, we have participated in several awareness and training activities in OpenStreetMap mapping and open geomatics in Benin and West Africa. These capacity building workshops are supported by the Direction de la Francophonie Économique et Numérique (DFEN/OIF) and implemented by experts from the Association les Libres Géographes (LLG) in collaboration with the Association Projet Espace OSM Francophone (EOF Project) and sister communities in West Africa.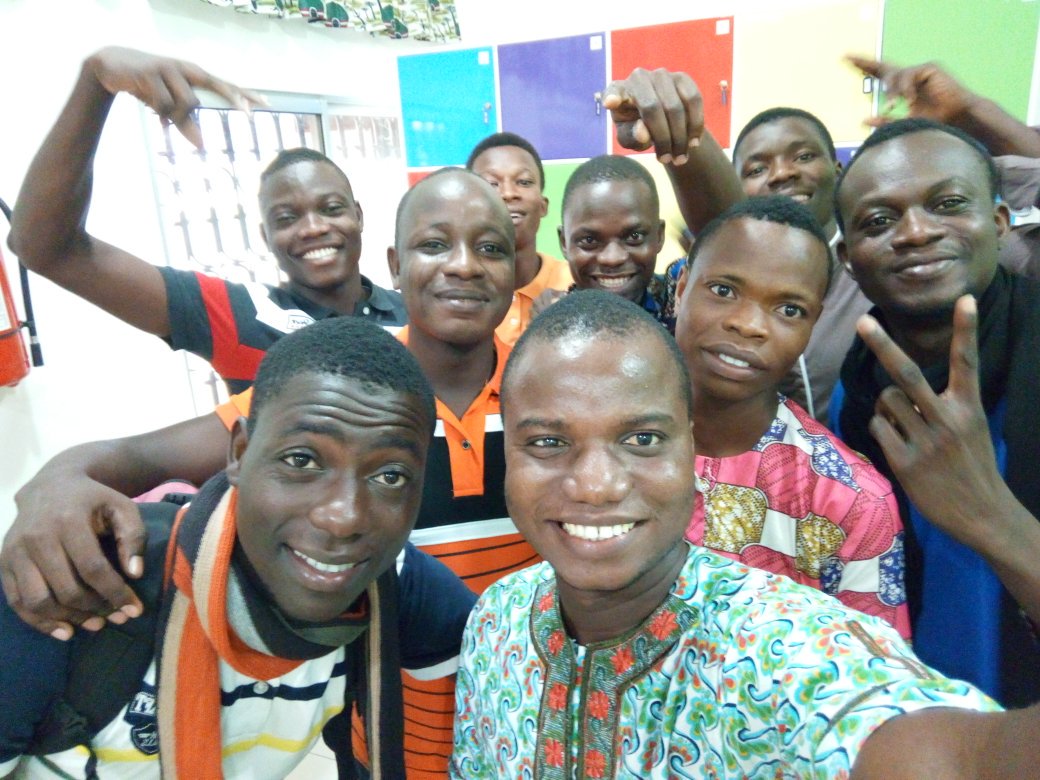 ## Benin territory Benin is a West African country, covering an area of 114 764 km2 and located between coordinates 9° 30' N and 2° 15' E. Benin is a privileged tourist destination in the sub-region. But unfortunately this territory remains little known by the authorities and by all Beninese, because it remains very little mapped. The little existing cartographic and GIS data are not open to the populations, these data remain under the only responsibility and availability of the authorities in charge of these institutions. This is one of the reasons that motivates us to work more to make the basic map of Benin under OpenStreetMap very well mapped and open to everyone. This is how we conduct awareness and training activities in OpenStreetMap digital mapping. ## Microgrant activities running In our various activities of promotion of the OpenStreetMap project we are confronted with difficulties especially financial, since we do not have an operating budget, the members contributed on own fund to carry out activities. This don't help us from having more impact through our actions. This year we have the chance to be accompanied by HOT through its Microgrant program. Our abjective this year through this support is to map the border regions of Benin, especially the northern parts of the territory. These regions are very little mapped, little known by health authorities. It should be noted that these regions are areas at risk for cross-border diseases, this is due to transitions and migrations. We therefore want to map these regions in order to allow health authorities to have a better knowledge of the territory, and be able to react effectively in the event of crises or epidemics. Beyond mapping cities, our goal is to train young people in these regions to use OpenStreetMap, so they can continue to map and update the base map of their regions. Through microgrant, we were able to acquire smartphones for field data collection. At the halfway point, we have already done fieldmapping, training workshops and data creation. We have already finished mapping Tanguieta and added the points of interest click here. Tanguieta is a city located in Northern Benin. Now we are mapping task on Porga, a border town with Burkina faso. ![fieldmapping] (https://pbs.twimg.com/media/DjL6o3zWsAAmp7h.jpg)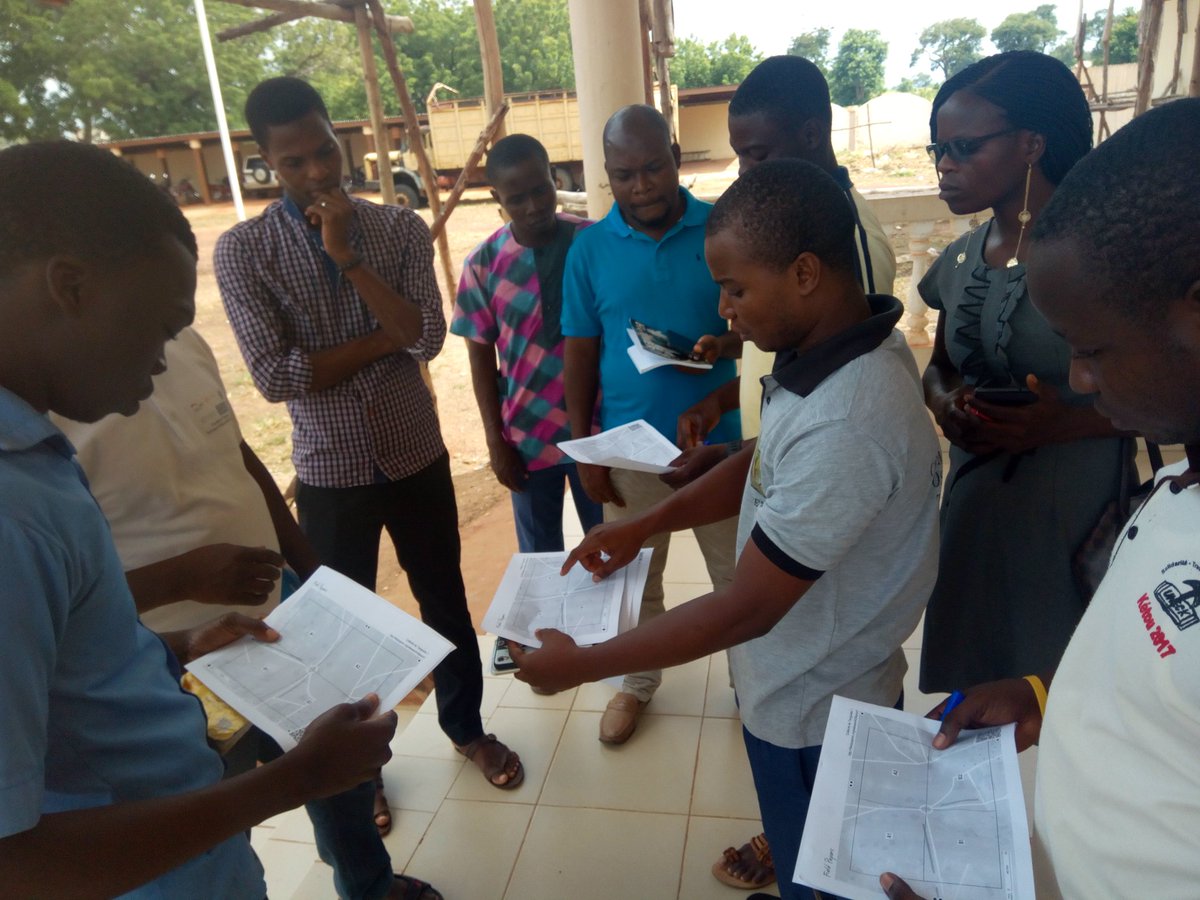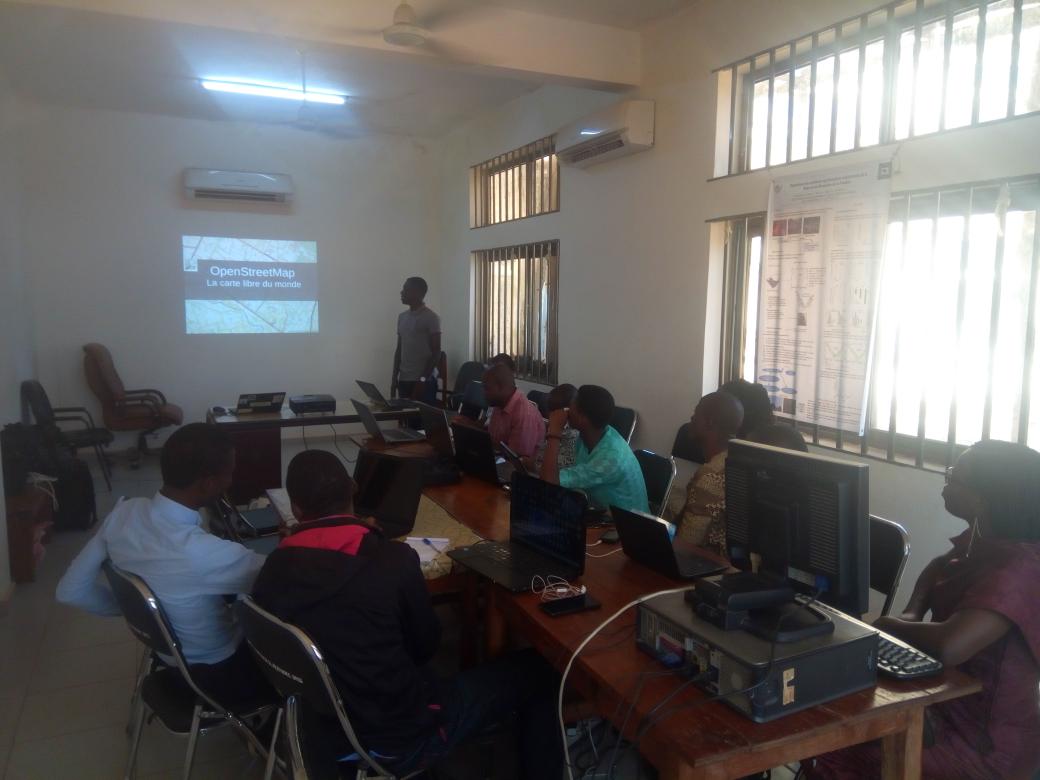 Upcoming activities?
For the future, we plan very soon to organize training workshops for girls, this will increase the number of girls in our community. We will also continue mapping the border areas of northern Benin through the Mapathons. We will organize them in collaboration with the young people we trained in Tanguieta. This will increase data creation. Data will be used by NGOs, humanitarian and research organizations, such as the Red Cross, IRD and others…for better coordination of actions in the field. ## Thanks to HOT for the support! We thank HOT for the support to OpenStreetMap communities in open data creation and promotion programs. We are therefore grateful to HOT for the support we have received this year. We hope next time to have chance to benefit from HOT another communities development programs. For example, we would like to be equipped with computers, which will facilitate training and data creation in rural areas, where most young people cannot afford computers. These computers will therefore be used during training and mapathons by people who do not have computers yet remain motivated to learn OpenStreetMap and participate in the creation of open geographic data for all. Thanks again to HOT for supporting us, HOT "a wà nû"!!!
Du 14 au 25 mai 2018, c'est tenu à Lomé un atelier de renforcement de capacités organisationelles et techniques en Cartographie numérique OpenStreetMap et SIG Libre. L'association OpenstreetMap du Bénin à été representé par quatres (4) de ses membres: PhidiasAZO, sahadou, Témitokpè ADEICHAN et moi-même L'atelier a été mise en oeuvre par des experts de l'Association LesLibresGeographes (LLG), en collaboration avec le PEOF (Projet Espace OpenStreetMap Francophone) et soutenu par l'Organisation Internationale de la Francophonie(OIF). Cette formation a réuni 25 formateurs des Communautés OpenStreetMap d'Afrique de l'Ouest et de la France. Ces ateliers étaient orienté sur deux aspects : aspects organisationnelles et techniques.
Sur le plan organisationnel, c'était l'occasion pour certains mappeurs d'appprendre entre autres: les différents outils et méthodes de Gestion Axée sur le Résultat, écriture de projet de formation, le reporting financier etc…et pour d'autres c'était là l'occasion d'un rappel et de consolidation des connaissances sur ces sujets très important dans l'animation du projet OpenStreetMap. cliquer ici
Sur les aspects techniques, nous avions travaillé sur les IDS, introduction au logiciel de statistique R et bien d'autres aspects techniques. cliquer ici
Ces deux semaines d'atelier furent une très belle opportunité de partage d'expériences, d'acquisition de nouvelles connaissances et compétences.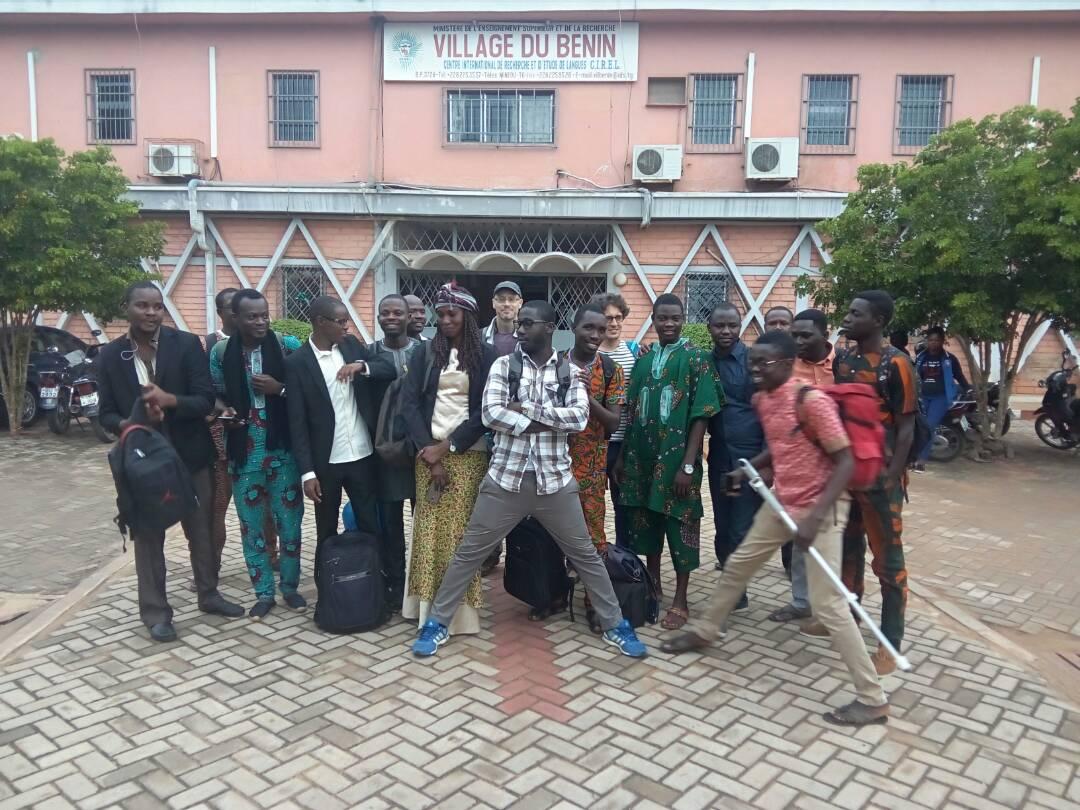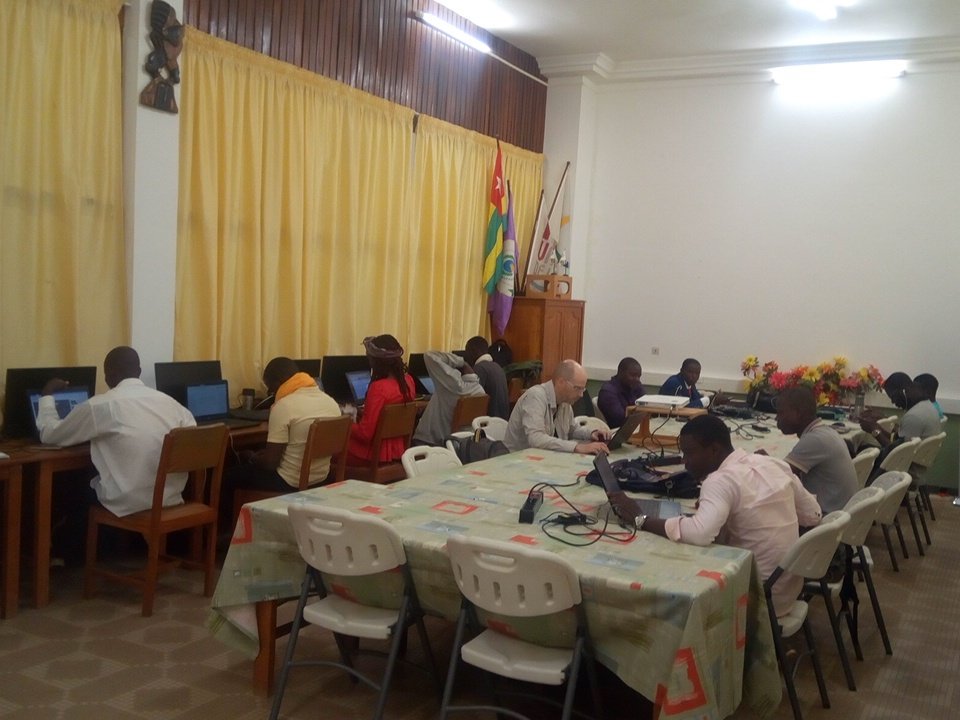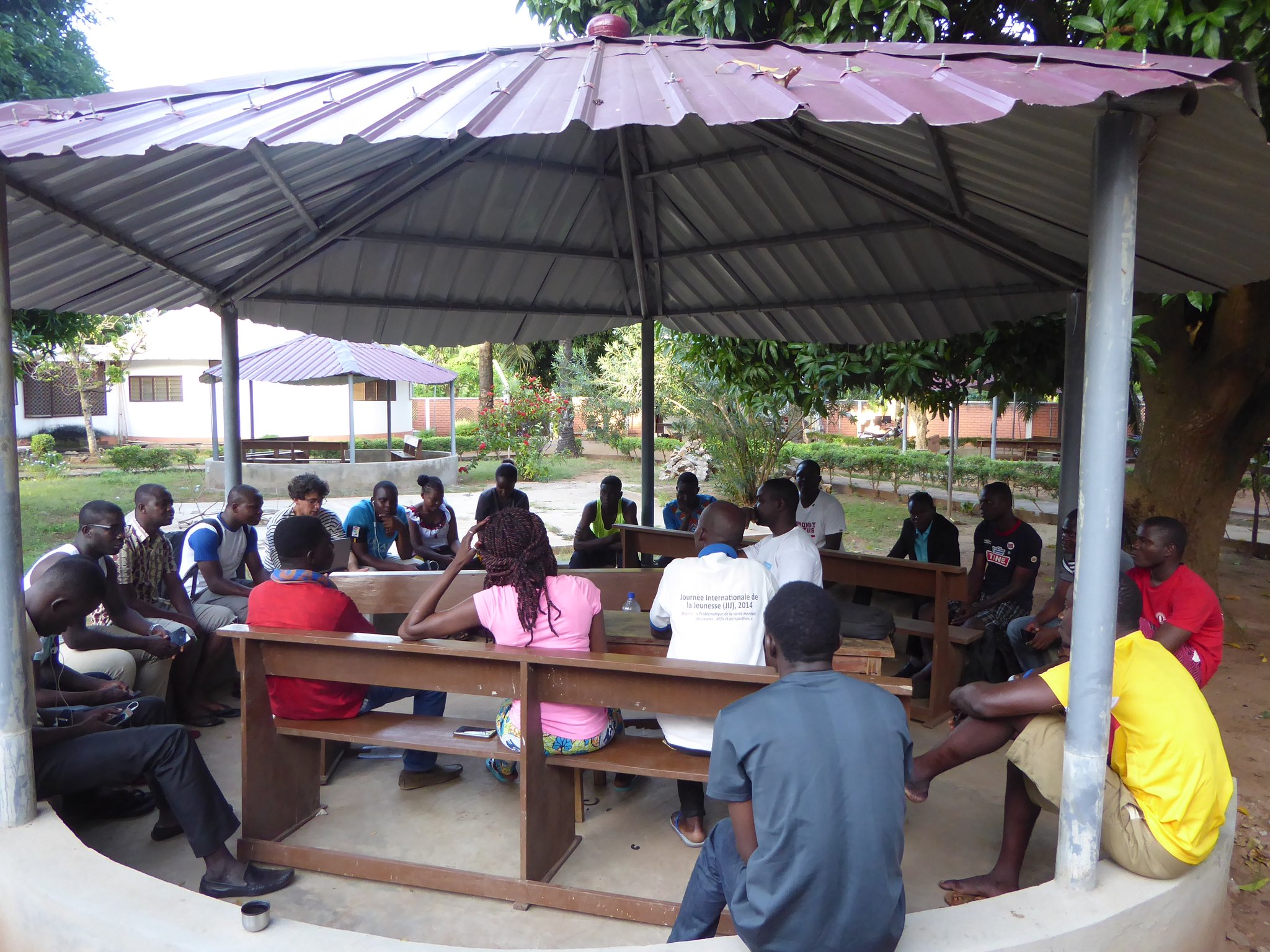 Location:
Université du Bénin, 5e Arrondissement, Lomé, Région Maritime, Togo
Dans le cadre de l'exécution du projet 'MAP & JERRY' initié par l'Institut de Recherche pour le Développement (IRD), j'ai eu l'occasion de former avec un collectif de mappeurs béninois des jeunes d'un quartier déshérité de Cotonou à l'utilisation de openstreetmap. Le but de ce projet est de former ces jeunes aux outils de cartographie OSM pour la cartographie de leur quartier. En effet, Ladji est un quartier précaire situé en bordure de la lagune plein cœur de la ville de Cotonou. Mais malheureusement ce quartier ne figure sur aucune carte.
D'où ce projet pour former des habitants de ce quartier afin qu'ils cartographient eux-mêmes leur environnement. Ainsi, 36 jeunes ont été formés à l'utilisation des techniques et méthodes de cartographie openstreetmap. La formation a duré 10 jours, du 12 au 23 mars 2018. Notre mission était d'amener immédiatement ces jeunes à être capable de produire la donnée de qualité dans la base de données OSM.
Nous sommes partis de la création de comptes openstreetmap aux participants, ensuite, à la découverte et à la prise en main de Java openstreetmap (JOSM). L'édition des données à donc été faite essentiellement avec l'éditeur JOSM.
Nous avons ensuite montré comment utiliser les applications mobiles pour collecter de la donnée openstreetmap sur le terrain. Les smartphones sont de plus en plus accessibles à un grand nombre de personnes. Il est donc important d'apprendre aux gens comment collecter de la donnée avec leurs smartphones. Ainsi les participants ont été formés à l'utilisation de : Osmtracker; osmAnd; Maps.me; Mapillarry.
A la fin des 10 jours de formation, les jeunes ont pu faire la cartographie de leur quartier. Ladji est représenté désormais sur la carte de base de Cotonou : quartier Ladji
Ces jeunes continuerons à mettre à jour la carte de leur quartier à travers tous ce qu'ils ont pu apprendre.

Location:
Ladji-École, 6ème Arrondissement, Cotonou, Littoral, Bénin