Warning: this post contains tagging challenges!
Gorgeous day for a bike ride yesterday, so headed out to uncharted territory in the Fens. Little Downham is a village of about 3,000 people, 5km north west of Ely on one of the old 'fen isles', raised land which before the Fens were drained stood up from the marsh. They're having their carnival this weekend and for this they're having a scarecrow competition: so lots of the houses have scarecrows outside: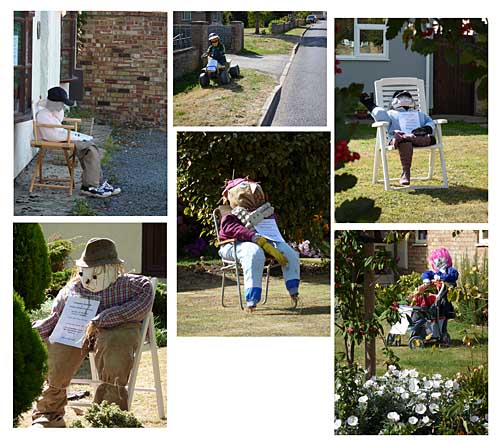 A couple of hours surveying saw Little Downham done, so on across the fens for the other missing link in these here parts, Mepal. The journey took in the already mapped (thank you, Donald!) settlements of Coveney and Wardy Hill. And some pumpkins. (You don't often see this strange sight in fields, though it is Halloween before long). This picture is from California. Yes, that's right: California, Cambridgeshire.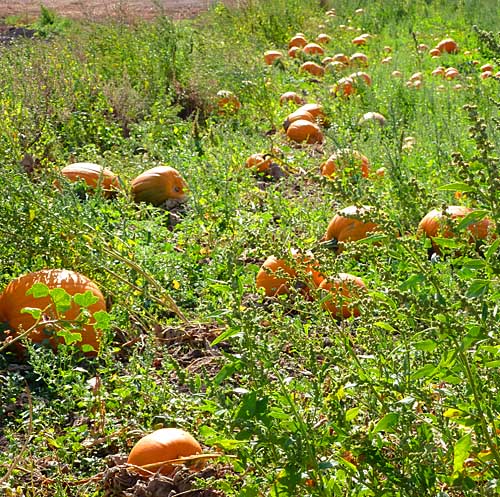 What wasn't already mapped (and still isn't in its entirety) is a network of by-ways surrounding and to the south of the village Wardy Hill. What makes these unsurfaced public tracks more than just more stuff to map is the tagging challenge they present. Suggestions welcome. Here's the sign: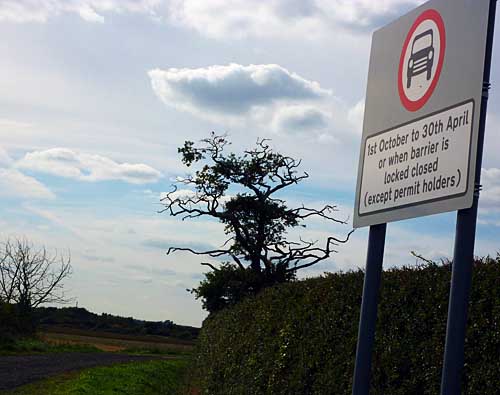 So the sign excludes cars (and trucks), but there's then a timed exception for the whole summer but that itself has two exceptions, a negative one (even in summer cars can't use it if the gate is closed) and a positive one (in that you can get a permit). Bicycles, walkers, horses and motorbikes can use it at any time without hindrance - though if the gate is closed, it's not clear how you would get a motorbike through, and in some cases the "barrier" is a pair of bollards that you couldn't physically get a car through anyway. It's not obvious why anyone other than "slow modes" and local agricultural traffic would want to use these anyway as they don't offer any particular advantage or excitement, and they obviously aren't really wanted. Someone must have kicked up a fuss when they proposed closing them.
So finally, Mepal. It was smaller than I thought: it took less than an hour to survey so it can't be much more than 1,000 people, though it looks bigger. It's about 10km west of Ely and situated by the bridges that used to carry toll traffic across the Bedford Rivers between Ely and March. Now there's a bypass and the main road is carried across the channels on a long viaduct. The old road still winds through the village and the first bridge is still there, only really because it needs to serve a couple of houses built between the two big drains. The Three Pickerels pub by the bridge must have been not a little peeved when they suddenly found themselves at the end of a mile long no through road!
Whizzed back to Ely station with the wind at my back.
For anyone in this area in future, it would be very useful to see if West Fen Drove, a surfaced, though narrow road leading SW out of Downham links up with West Fen Road SE of Coveney. NPE kind of suggests it doesn't, but it seems like it should given the way it lines up, and it was a bit out of my way to find out. In fact the who network of droves and by-ways would be an interesting exercise - there's more out towards Littleport and Pymoor as well as the Wardy Hill ones.
Location:
Downham CP (E Cambs), East Cambridgeshire, Cambridgeshire, East of England, England, United Kingdom