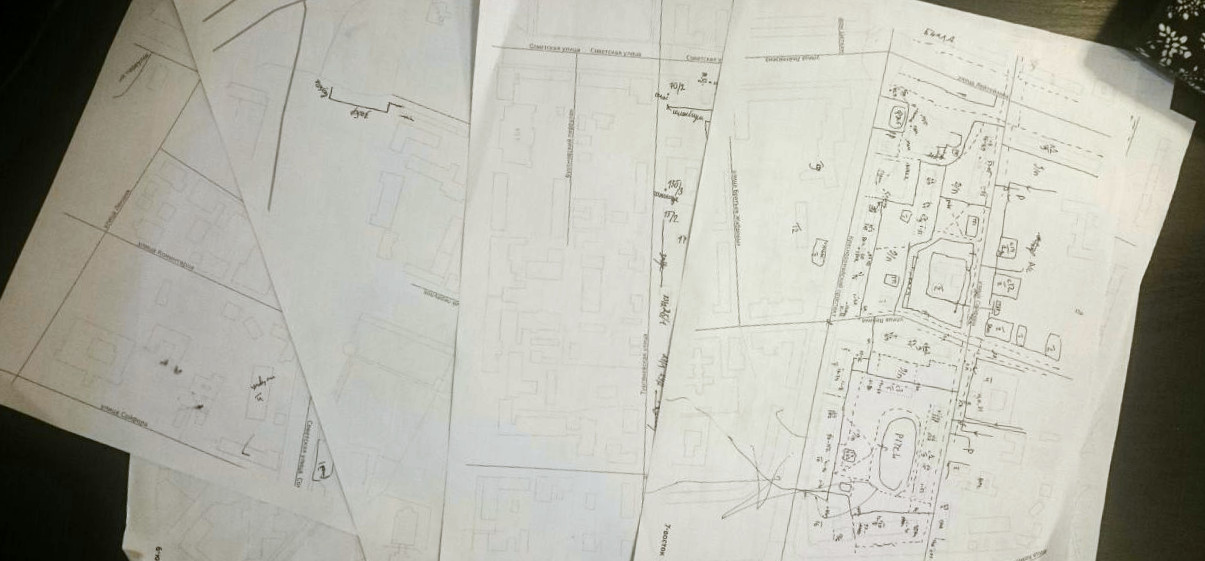 I have talked publicly about improvements to walking papers since at least SotM 2013. Made a blog post here in 2014 with some thoughts. But all I've seen were new ways to print tiles or atlases. While I admire the Field Papers and MapOSMatic fork improvements over the past years, a good walking paper is more than that.
For a long time I have been using a 28-step process to prepare walking papers for my mapping parties. It involved using Maperitive, Inkscape and some proprietary software. This year I finally got fed up with reanimating that old renderer, which doesn't work perfectly on Linux, and tried something else. I had always been recommending QGIS for printing maps, and I decided to try it myself. Turned out, making walking papers with it is really simple and straightforward, albeit not without issues.
I started writing another guide with QGIS and GDAL and all the new tech, but it quickly grew to 22 steps. Still too many. Having discovered the Python Console in QGIS, I started experimenting with automating a few tasks. One thing after another, and now I have automated almost everything, fixing a few issues in QGIS on the way. I present to you…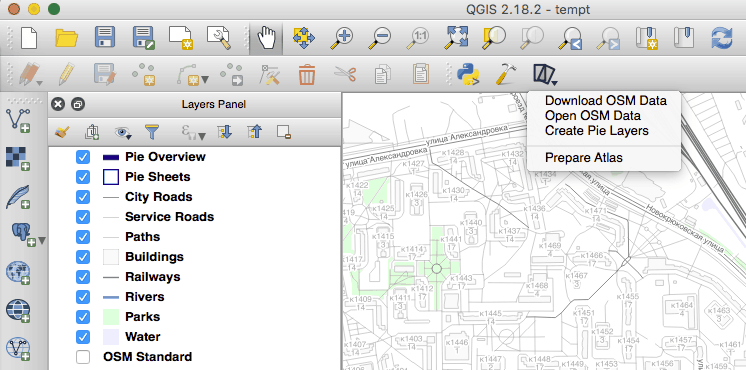 Walking Papers QGIS Plugin
It is the simplest way to prepare good walking papers for your mapping party. All you have to do is sketch the pie, and the plugin does the rest. Here are the complete instructions:
Install the "Walking Papers" plugin from the official QGIS repository.
Click the button with blue rectangles and choose "Download OSM Data".
On a layer it created draw a polygon around your mapping party area (click a pencil button, and then "area" something near it. Left mouse button adds a node, right button closes the area), and choose the same menu item again.
Yay, we've got a map. Sketch the pie with lines in the "Pie Overview" layer.
Having finalized the pie, activate the "Pie Sheets" layer and draw areas around quarters that go on each of the printed sheets. Usually it's 2-3 sheets per a pie piece. Name areas like "4-west", where 4 is a pie piece number, and "west" helps a mapper to locate themselves.
Click the blue rectangles button and choose "Prepare Atlas". That's all, check out the sheets and print them or export them to a PDF file.
Amazing, right? For a regular mapping party this way of preparing walking papers gives you much more control, and you would need to do much less explaining when handing these sheets to participants. Here is why I prefer it to atlas-printing websites:
The data is very recent. It is downloaded from Overpass API, and you don't have to wait for a server somewhere to catch up. Buildings missing? Ask mappers to help drawing them, and print the papers an hour before the party, with everything they managed to draw by that time.
Custom map style. With online services you have basically one good choice: Stamen's Toner. It is not perfect for walking papers: labels are in English, lines are too thick and dark, buildings don't have numbers and are hatched, so you can't draw anything on top of them, and the water is awfully black.
Vector maps. You are not limited by zoom levels, and thickness is specified in millimeters, not pixels on some maximum zoom level.
Custom attributes. The bundled style prints house numbers and building heights on buildings. It is not easy to alter that at the moment, but by manually editing osmconf.ini and wp_style.yaml files in the plugin directory ($HOME/.qgis2/python/plugins/walking_papers) you can add any attributes and change the style however you want.
Rotation. It is frustrating when the roads in your mapping area go in 45° angle on the map, which makes most of the space on walking papers sheets unusable. With this plugin, maps on your sheets are rotated so objects on the map are as big as possible, and you have plenty of space to put down POI names and house details.
Speed. No more waiting for an hour while your task crawls through the queue. Click a button, get an atlas, that's all.
Works offline. Download a map area in JOSM beforehand, or copy it with a flash drive from a connected computer, and use the "Open OSM Data" menu item.
I hope this plugin helps you with organizing a mapping party. We know these don't help with attracting new contributors, but parties are fun, you get to know your city or village better, and the amount of data you collect is unmatchable by any other data collection method.