The OSMF Board elections happened a month ago, but only now I've got my hands on the anonymized ballots. Which means we are getting some statistics.
First, let's look at numbers. By the 10th of November we had 457 members eligible to vote. That is much lower than the previous year, when we had around 500 eligible members. Still, that's just a tiny fraction of active OpenStreetMap editors, so the room for improvement is huge. Other numbers have also dropped: 4 candidates instead of 11 in 2015, and 253 voters (55%) instead of 272 (~53%).
It was definitely the fastest and simplest of OSMF elections: with only four candidates, two of whom were running for re-election and other two much less known in the community, 77% of first choices were either Frederik or Kate. That is, Kate got three times as many first votes than the runner-up. I doubt there is a system in which the outcome of the voting would be different.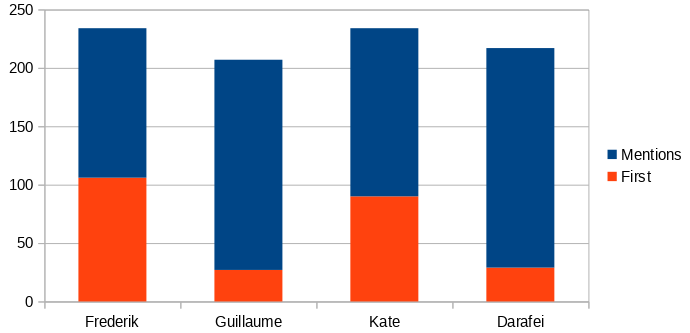 Let's look for the third place. Guillaume got 27 first votes and Darafei got 29. But did Darafei take the third place? By now you should know the STV does not make the answer obvious: it depends on how many people have listed these two as their second choices. And we see that twice as many Frederik's voters had chosen Guillaume for their second vote: 38, and 19 for Darafei. Kate's voters, on the contrary, preferred Darafei: he got 23 vs 18 for Guillaume.
Since the weight of Frederik's extra votes was much higher (0.4 vs 0.3) and more people gave the second vote for Guillaume, he gained most after the two transferral rounds: 60.2 vs Darafei's 55.4. Which would make him the third winner, had we another seat to fill.
Five ballots with just one candidate listed had either Frederik's or Kate's names on them. One ballot was empty, and 184 (73%) had all four candidates. Just one ballot did not have Frederik or Kate listed. 17 ballots had Frederik and Kate for third and fourth choices.
Darafei would take the third place in "Approval Voting": if we count all mentions of candidates, regardless of a position, then Frederik and Kate would get 234 votes each, Darafei gets 217 and Guillaume 207. Incidentally, Darafei gets the most "disapproval" votes, that is, he is listed fourth on 67 ballots out of 184 that have all four candidates. Frederik has the fourth line only on 29 ballots.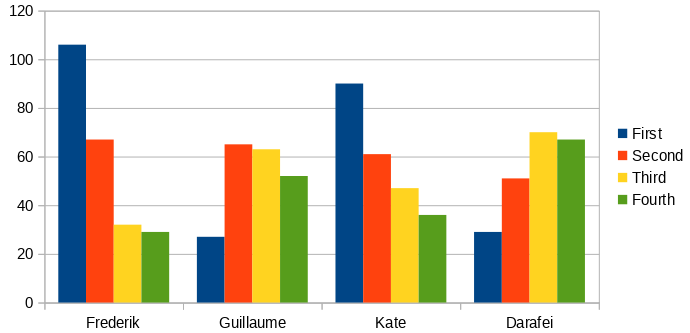 Here is the original ballot file, which you can feed to OpenSTV to check on numbers, or analyze to get more statistics.
The OSMF Board did not change this year, which means we don't have to learn new names, but also that we won't hear new voices. I really hope next time there will be a lot more candidates, especially from under-represented countries. You don't have to be fluent in English or know accounting to serve on the Board. An urge to make OpenStreetMap better and an understanding that you would need to move in small steps is all it takes. Do push yourself for the elections this Autumn, and thanks for choosing us, the current Board members.