Many mappers agree that simple and accessible editors are hazardous: the simpler editor is, the easier it is for a horde of newbies to submit wrong data. This was a main argument against Potlatch, and then iD. Now MAPS.ME built-in editor allows for changing tags and adding nodes with just a few clicks for any of our tens of millions of users. Which of course has led to a number of questionable edits.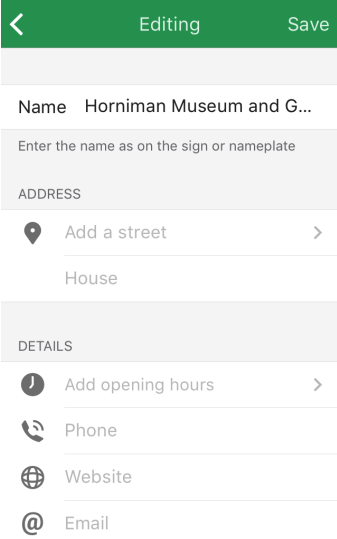 The first field in any place card is name. When we released the editor in April, it was a single field for editing the "name" tag. You changed a name — the new tag value was uploaded to the map.
Complaints started coming almost immediately. Turns out, some tourists were renaming attractions to their language for easier navigation. If you look at the Questionable Edits wiki page at the time, you'll see that names in wrong languages are the most worrying kind of edits.
How do we fix that? Well, finding the language of the name from its characters could work for some languages (like Chinese vs. English), but not for most. Adding a warning that users should type only what's written on a plate is better, but it was there from the start, and nobody reads instructions. Removing the field completely, like some suggested (along with the rest of the editor) could solve the issue, at expense of the better map.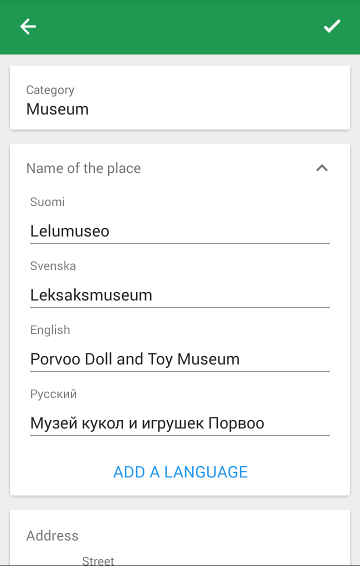 In August, we prepared a list of native languages for each country. For example, in Finland it's "fi" and "sv", in Estonia it's a single "et". India has 11 languages, though its regions have less. We took this from the Wikidata, which may be incomplete and sometimes wrong. If you have a minute, check this list for errors. Languages should be ordered from most-used to least-used.
And with that, we completely disabled editing of the "name" tag in the 6.3 release. Mappers were asking, and we delivered. Now users were presented with one or two native language name fields, plus an English name and a name in a user's language. For example, if you are a russian in Helsinki, you'd see editors for "name:fi", "name:sv", "name:en" and "name:ru". This way it was less likely Chinese names would be entered into e.g. name:en. And since the default style on osm.org uses only the default name, changes from maps.me wouldn't be shown there.
Except for new objects: when a user creates a POI and fills any of the native language fields, that name gets copied into the "name" tag. But not when editing. Which started causing another kind of error: when a shop had changed its name, we would get old name in the "name" tag and a new name in "name:lng". It displays properly in maps.me, since we favour localized names, but not on other maps. And some mappers started complaining about equal values for "name" and "name:lng".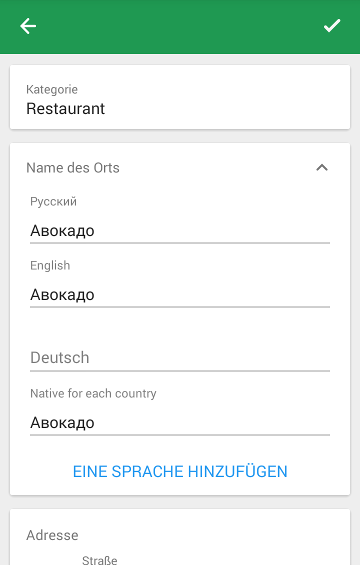 With the 6.4 release, we adjusted the workflow again. Keep in mind that our goal is to prevent accidental mistakes by users, not by experienced mappers who know how the application works. For the latter, we added a special language: "Native for each country" at the very bottom of the languages list. That's right: it is a way to edit the "name" tag directly.
When creating a POI and filling a name in a local language, that name will be not copied, but moved into the "name" tag, so you won't see duplicated values in tags. In my opinion, that's a drawback, but still, that's what mappers requested.
Now the complicated part: when there is only one local language for a region, like in Estonia or US, a user has a chance to change the default name. First, all empty name fields for local languages and English are pre-filled from the "name" tag. If a user have edited names in both languages, this would mean the user knows what they are doing, and the app will put the local/English/any other (whichever is not empty) name into the "name" tag.

This still means you will get discrepancies between "name" and "name:lng" values for countries with more than one local language, or with users who don't have time to edit all the fields. Know how to make name editing more safe and effective? Please share it here in the comments: maybe we could make it more transparent or even more smarter.