The stars have aligned to allow me a full weekend next week (29th & 30th Mar) of surveying in my city and I am planning on using it to gather as much address data as humanly possible for the west side of the city including the suburbs.
However, I need help adding buildings to allow for easier and more accurate surveying. The main reason is due to weird numbering in many areas where houses/businesses can be numbered as 1, 2, 3, 3a, 3b, 4a, 4, 5. When numbered like this it can be difficult to accurately map everything quickly. As an example, a few days ago I was able to gather data for over approx. 1,000 homes in just over 2 hours where the house numbers were not in a strict sequence simply because I had building outlines to tie everything to.
I have set up a job using Mapcraft to split up the task. If you know how to use MapCraft you do not need to read any further, just grab a slice and start adding buildings (pretty please) ;)
If you have never used MapCraft before, I have written a step-by-step guide on how to go about using it in conjunction with JOSM. To log into MapCraft, first, log into OSM as you would normally do, then click here to take you to the main MapCraft page. Hit login in the top right and allow it to link to your OSM account.
Firstly, you need to make sure you have remote control turned on in JOSM , here's how to do it:
Go to Edit -> Preferences or press F12 to bring up the Preferences window
Click on the remote control icon
Select "Enable Remote Control" and click OK.
Next, go to my MapCraft job. You will see the following screen: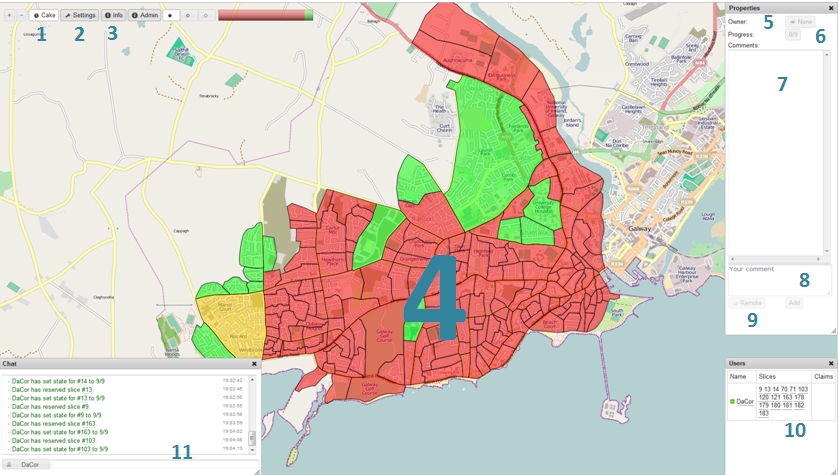 MapCraft Walk-Through
Cake: Turn on/off the cake outline to switch between the cake slice view and the background map
Settings: Adjust settings, default usually cover everything you need
Info: Click here to see the Where / Why / How etc along with additional information and helpful links
"The Cake": Galway city (west) broken into "cake slices " to allow for multiple people to edit the same area all at once without causing conflicts in the data. If you are editing a slice, its important you stick to your slice and don't go outside the boundary of it.
Owner: Click on a slice of the cake to select it, then click "Owner" to accept ownership of that slice. This prevents anyone else from working on that slice, again preventing conflicts in the data.
Progress: As you edit, you can click on this to move a slider between 0-9 to indicate to others how you are progressing. The cake above shows slices in various stages of progress from not started to completed.
Comments: Add a comment here (8) for a slice you are working on if you think it needs one. This can be used to highlight issues to other mappers if you release the cake slice to allow someone else to edit it. To add a comment, first you must click the number of the slice beside your name in the Users box (10). Once you type your comment and click "Add" it will show in the Comments box (7).
See 7
Remote: Click this button, it will load your cake slice directly into JOSM for you to begin editing, Note: It loads as a square area, not the exact same shape as the cake slice. Once your data has loaded in JOSM, on MapCraft, click Info (3) and click the "Remote" button beside the first link (WMS layer for editors). This will load the outline of the cake for you in JOSM so you can make sure you stay inside your cake slice until you are ready to claim another slice.

Users: List of all users using this mapcraft job and a list of the slices they have claimed ownership for.
Chat: Exactly what you think it is, a simple window to chat, or leave messages for other users. You can view the full chatlog by going to Info (3) and clicking on the second link (Cake Chat Log) to read back through previous conversations relating to the area being mapped.
Editing in JOSM – Showing cake slices to prevent data conflicts
When you load a slice in JOSM using the remote button (9) you will see something like the image below. It is essentially a bounding box encompassing the cake slice, but it also includes data from outside the slice so you can not just start editing. The image below only has a single layer (12) at present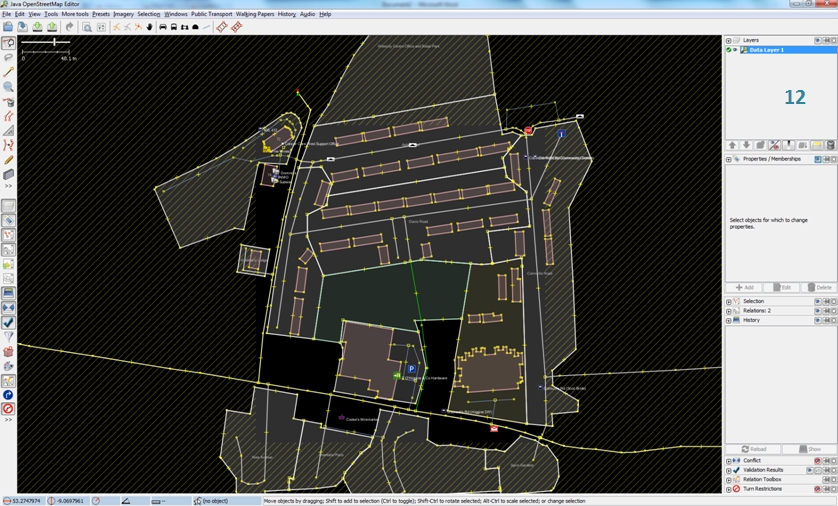 Before you start editing, you need to need to get the cake slice information which will show you, in JOSM, the boundary of your cake slice. To do this, in Mapcraft, click Info (3) and click the "Remote" button (13) next to the WMS layer For Editors link.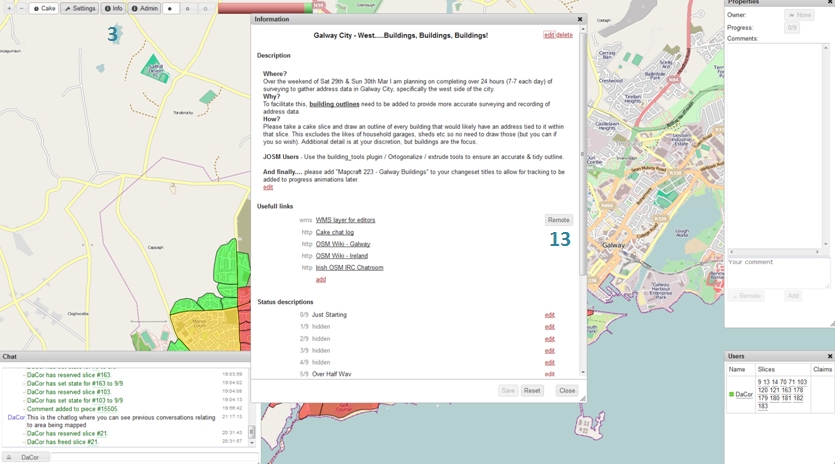 This will add a new layer called Mapcraft-cake-223 (12) to JOSM showing the boundaries of the cake slice, in this case, cake slice # 14.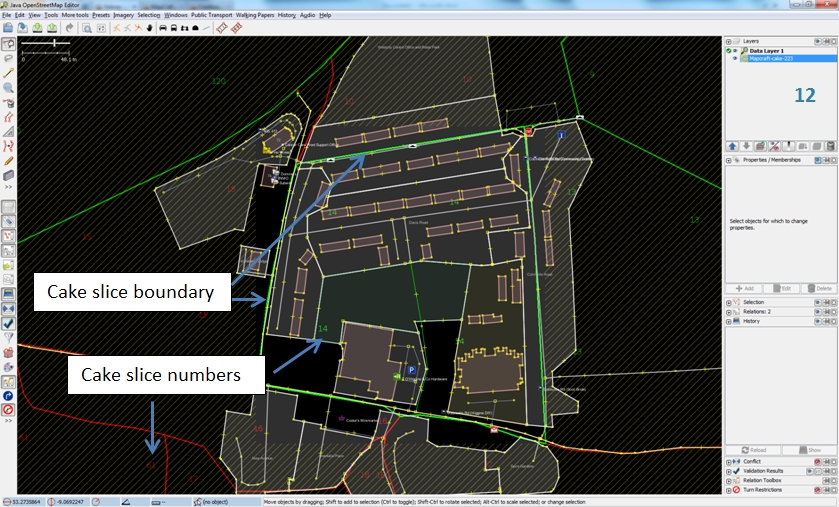 This can be toggled on/off by clicking the eyeball (14) next to the layer name.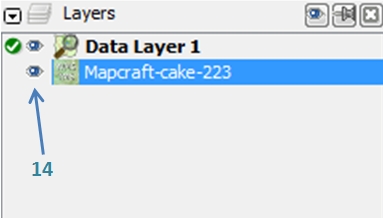 Next, add your imagery layer using the imagery menu. This will add an additional layer (12) for, in this case, Bing imagery.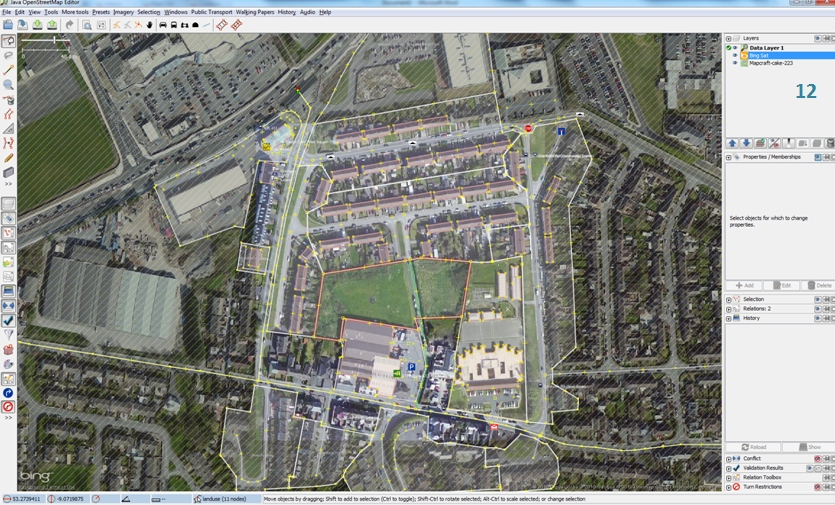 However, now you need to move the Mapcraft-cake-223 layer above the Bing imagery layer using the blue arrow (15) so that everything is visible all at once, openstreetmap data, cake slice outlines & imagery.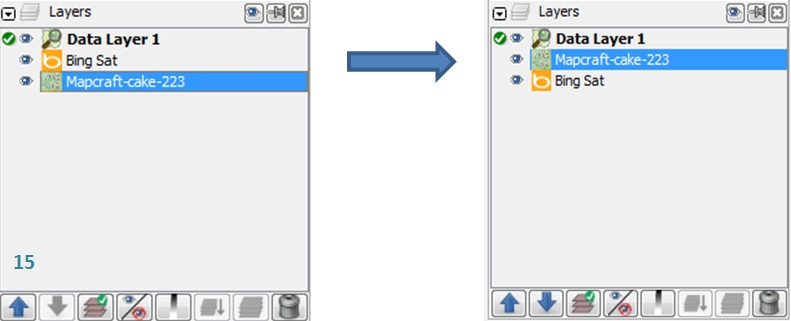 Now JOSM should look like this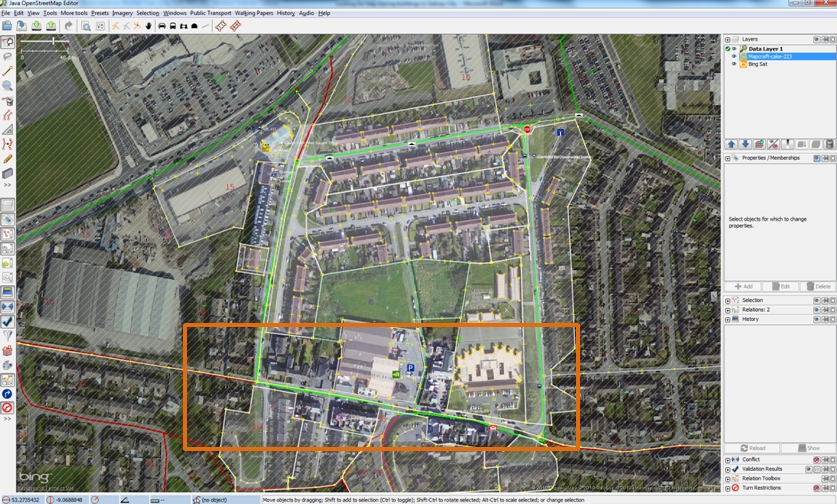 You can see a number of building outlines have already been added inside your cake slice but there are still a few missing at the bottom of the cake slice (highlighted)
Some are inside the cake slice boundary (16), these are safe to edit (17) and some are outside the cake slice (18). These should not be edited by you as another person may be editing that cake slice. If you both trace the same building it can cause conflicts or map errors, as in 2 buildings sitting on top of each other.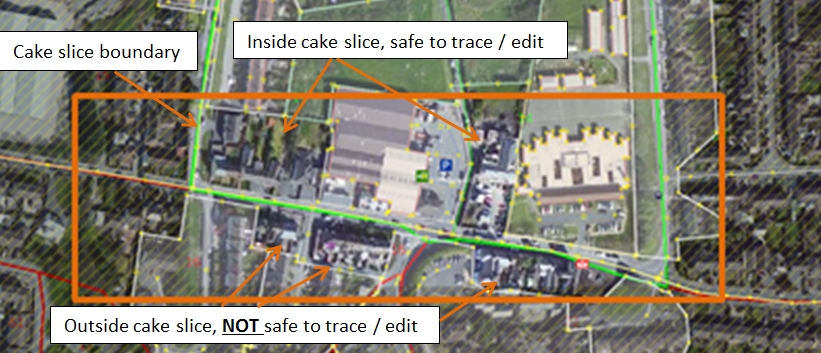 That's it, I hope this has been of some use and if you would like to show some love to Galway City I would be very grateful as it will make my surveying much more effective next week with the end result looking something similar to this area which I surveyed a few weeks back.
Location:
Townparks, St Nicholas, Galway City, County Galway, Connacht, Ireland