Spanish language version here
Hi all. I want to introduce the new MapRoulette version and invite you to try it. It is currently in beta and feedback and ideas for improvements are very welcome. This information also appears in the wiki section of the MapRoulette GitHub repository. You are welcome to submit issues there. I am looking forward to your feedback!
MapRoulette is a micro-task web tool for OpenStreetMap. It gives you small Tasks you can complete in under a minute to improve OpenStreetMap. Anyone can create groups of tasks, called Challenges, that the community can complete together.
This is the third major version of MapRoulette. The website has been completely redesigned and contains a lot of new features compared to the last major release.
MapRoulette 2 and 3 side by side
Here are some of the most visible new features.
Search
Better ways to discover Challenges you are interested in has been the single most requested improvement. We have spent a lot of time thinking about this, and listening to your feedback. We think you will really enjoy the new ways MapRoulette offers to discover interesting Challenges for you to work on.
Categories
Challenge authors can now assign a category to their Challenge, such as Roads, Buildings or Land Use. You can use these categories to quickly narrow down what is interesting to you.
Location
MapRoulette 3 features much improved location based filtering. You can limit your Challenge search to the current map view as you zoom and pan around, and can start the map on an area surrounding your Home Location that you've setup in your OpenStreetMap settings.
Free text
You can use the free text search field to narrow down the list of Challenges to match any text you enter. MapRoulette will search Challenge titles and descriptions for you.
Challenge List
A list of Challenges that match your filter results is now always visible on the left side of the MapRoulette window. It will update in real time as you select filters from the drop down menus, use the free text field, and pan and zoom the map.
Map Display
MapRoulette will now show you where the Tasks in a Challenge are located when you click on a Challenge in the list. As the Task information loads, MapRoulette will first display a bounding box to give you a rough idea. When the Task locations are loaded, you will see them on the map. If there are many, they will be clustered. Zooming in will then show you individual Tasks. You can click on a Task to work on it.
Working on Tasks
MapRoulette now gives you more freedom to decide how you want to work in MapRoulette.
Random or Nearby
The name MapRoulette suggests an element of chance. Tasks within a Challenge used to be served completely at random. This meant that you jump around the map as you work on Tasks. Not everyone appreciated this. We received a lot of requests to offer a way to work on Tasks in a specific area. MapRoulette now offers this. After starting a Task, you can decide if you want your next Task to be one nearby or a random one from the same Challenge. MapRoulette will remember your choice for that challenge.
To change this setting while working on tasks, look for the Random / Nearby switch in the More Options area.
Tracking Tasks
MapRoulette now lets you track a Task. This is useful if you want an easy way to come back to a Task later. When you track a Task, it will be added to the list of tracked Tasks in your Profile page.
To track a Task, click the Track switch in the More Options area.
Saving Challenges
If you like a particular Challenge, MapRoulette now offers an easy way to save it. When you return to MapRoulette, your saved Challenges will always appear at the top of the list.
To save a challenge, click on the title to reveal the details, and then click 'Save'. You can 'Unsave' in the same way.
Working Together
Commenting
MapRoulette lets you comment on individual Tasks. You can use this feature to let other mappers know why you skipped a Task or marked it as Too Hard, for example. The Challenge author will also be able to review comments, perhaps to make improvements to the Challenge. So you can use comments to let the author know your feedback as well.
To comment on a Task or review previous comments, look for the comment field below the Task instruction.
Virtual Challenges
A new concept in MapRoulette is the Virtual Challenge. This is still very much a work in progress and something we would really like your feedback on. A Virtual Challenge is an impromptu Challenge you can create yourself out of the available Tasks for the area you are interested in. This lets you systematically solve all MapRoulette tasks, across Challenges, in your area. This can be fun and useful for a Mapping Party!
To create a Virtual Challenge, go to the main Challenge list view by clicking on Challenges in the top menu. Next, use the map to zoom in to the area you are interested in. When zoomed in far enough, you will see that individual tasks are loaded and displayed on the map. You will also notice that a button 'Work on mapped Tasks' appears at the top of the Challenges list. By clicking this button, you create a Virtual Challenge that consists of all the currently visible Tasks. If you want, you can use the filters to narrow down the Tasks further before you create your Virtual Challenge.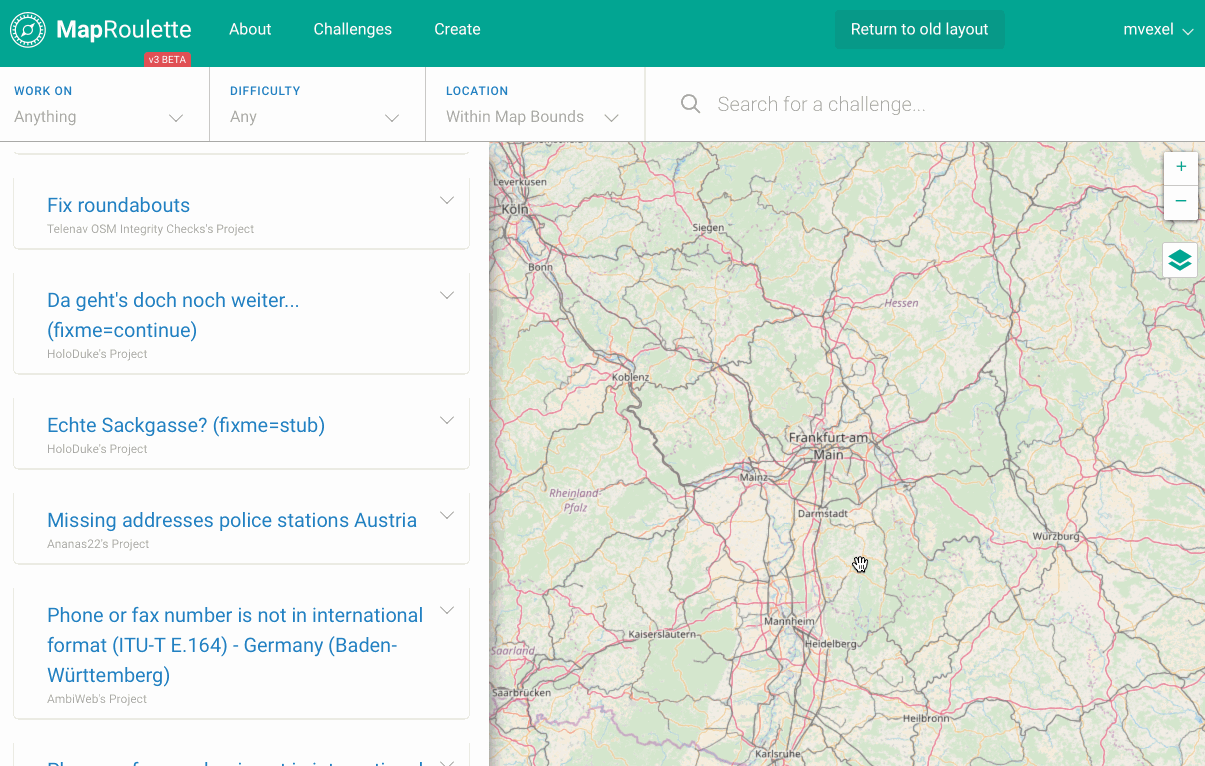 Social Sharing
When working on a challenge, it's now easy to share a link via email or on selected social networks using the social sharing area near the bottom of the task sidebar.
Go here to try the new version: http://maproulette.org/mr3
---