The weather in DC last Saturday was forecast to be warm and bright, and it was. I was desperate to escape the city, see expanses of budding trees and returning migratory birds, and have been planning for nature on my phone, digging into the NPS Chesepeake Explorer App since I stumbled onto the Star Spangled Banner Trail on the way to the Hyattsville Mapping party. It's a nice app, I hope they update soon to use NPS Park Tiles.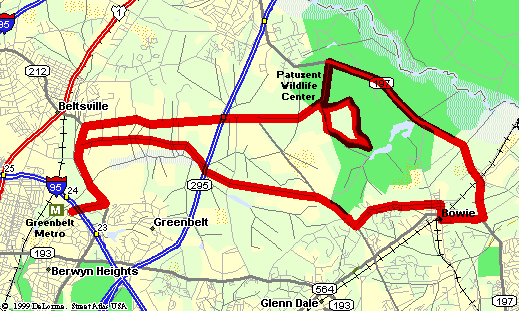 Patuxent River Park intrigued me. Trying to figure out how to bike out there, found the Patuxent Wildlife Center Loop on http://bikewashington.org/, a terrific source of information, originally inspired by biking in Atlanta for the 1996 Olympics (my friend Eric Manners and I were inspired to bike to Atlanta 96 from Chicago right after graduation, and became lifelong bicycle fanatics along the way). Would love to talk to the programmer of the Bike Washington about an update to use OSM and the latest infrastructure. So this Patuxent, was not the Patuxent I was looking for, but it sounded pretty nice.
Generated a fresh Garmin map for Maryland/DC/Virginia, and created a rough route on GPSies from the text description of the ride, and loaded that on with GPSBabel. Erica and I took the Metro out to Greenbelt, greeted by acres of very full parking lot, presumably the transport deritus of families taking the reverse route into DC for the day. Passing aspirational, exurban, mega office complexes ("your company here, 600,000 sq feet"), we turned into a still-but-not, rural but vaguely militaristic, US Property warning, federal landscape of the USDA Beltsville Agricultural Research Center.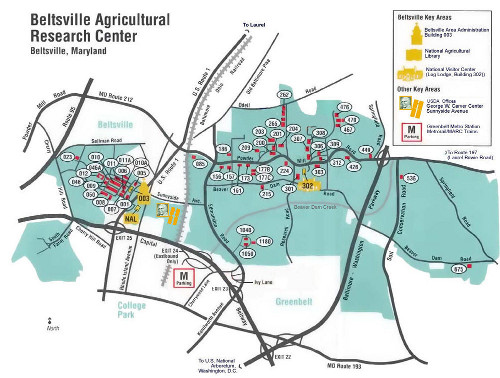 Of course, there is a map, out in the landscape, to easily find our way to the beef, pork or chicken research stations. A landscape out of E.T., quiet and peaceful, yet clearly something was happening. Proud buildings, echoes of rolling English countryside, revealed to be the US by the gauche MIT style numbering prominent on every facade. A banner on the side of building, "Celebrating 100 Years" ... 100 years? Such a mammoth federal complex, I could only have imagined emerging in New Deal America, as the Wildlife Research Center itself was founded in the 1930s. We passed on, turned off down Scarlet Tangier Loop, and arrived at the National Wildlife Visitor Center. Tired from charging our single speed up the hills, we relaxed on the tram ride, saw beaver, turtles, and passed along Telegraph Road, along which the old Washington-Baltimore telegraph line travelled, famous for carrying news of Lincoln's assassination North (Lincoln will make another appearance in this landscape portrait later); laid in the sun as the birds and bugs came to life again in the late afternoon; and boggled at the "state of the art" amusementpark/nightmare/psychedelic/mournful education exhibit. From the command center-sh1t your pants visualizations information overload of the planet's unsustainable human development, to a hall of stuffed endangered species displayed inside room-high/triangular/funereal/obscured glass columns, to the final escape launch via a full size kaleidoscopic Koyaanisqatsi-lite video booth, and face on portraits of adorable endangered animals crying for your concern, it is a journey sure to traumatize generations of school children into deep lifelong passion for conservation, if they can ever find their way outside the exhibit again.
We turned back, not following the full ride loop through Bowie, back to the Metro, back to some of DC's fine pupusa. Here's the whole ride on Strava, including our time laying in the sun, and tooting around on the tram ride; hope I scored some of the slowest riders place on some segments!
And the map. OSM had the "North Tract" of Patuxent mapped out, traced from Maryland parcel data. The "South Tract" and "Central Tract" were missing completely. The boundary is not exactly evident from satellite imagery, and I figured as federal data, somewhere out there was a shapefile of the boundary. Patuxent and other Wildlife Refuges are part of the US Fish and Wildlife Service, and they maintain a GIS data download site. It wasn't exactly obvious how to find this on geo.data.gov, Google and human facing text won this one. Downloaded the USFWS Interest Shapefile, and opened in QGIS. Zoomed to the area of Patuxent, selected all the numerous polygons (seemed to be broken down by parcel), and merged into three polygons (North, Central, South) based on the rough map in the Patuxent brochure. North had about a dozen very tiny, still unexplained holes. Projected, then saved that shapefile, then opened in JOSM, which worked just perfectly (including setting up a multipolygon relation for the North). Tagged and merged with the existing OSM data. Fixed up the road network to the Visitor Center (mostly untouched since Tiger import), and added a few more features. There's plenty more work to do, just around the visitor center, tracing the lakes, adding walking paths, info boards, dozens of benches, and 2 beaver lodges.
I remained curious about the USDA Research Center ... how the heck did it end up out here? What do they do? Found Beltsville Agricultural Research Center history exhibit in one corner of the delightfully Web 1.0 USDA web presence. Lincoln, a farmer himself, signed the USDA into existance in 1862. In the middle of the Civil War, a turning point in the balance of federal power (though let's not forget the real cause, Lincoln created a new federal agency, and it found its first home right on The Mall. That included ample space for livestock research; for two decades, right in the heart of DC the USDA was experimenting on cows and pigs and chickens. This must be Historically Mapped. Later the livestock research was moved east, near to the present site of the National Arboretum, also a USDA property, and hopefully the site of a mapping party soon. Then Bethesda, and finally Beltsville in 1910. Though Beltsville felt like a New Deal landscape, it's historical precedent went decades back.
And its 100+ years, BARC has pretty much created food as we know it in the country, scientific exploration of greater yield (quadrupling milk output per cow), adjusting breeds to consumer preferences (most every store sold turkey in the US descends from a lineage developed here, a 8-10 pound turkey with more breast meat) (later they discovered some of these turkeys reproducing asexually). Oh, they also developed DDT here, which later Patuxent proved harmful to reproduction of birds, including our national bird (nice government landscape symbiosis here). Don't get me wrong, I'm sure the USDA has time and again made absolutely beneficial discoveries to our agricultural. Even Thomas Jefferson said "The greatest service which can be rendered any country is to add a useful plant to its [agri]culture." Pacifists during WW2 undertook their national service here. This is the largest contiguous green area in the metro area. It just gives me plenty of pause to see what change this place has brought about in what we eat. Would be great to map the place more, using that georectified sign board, and the boundaries of government land ownership in Maryland ordered up from the USDA GeospatialDataGateway.
And that's another pass through the physical and data landscape in the DC metropolis. Ever fascinating, the process of the historic shaping of our landscape, the ways we understand symbols and concepts and their physical presence, our fleeting feelings and impressions, our communication and sharing of place, in data and stories.
Location:
Old Town Bowie, Bowie, Prince George's County, Maryland, 20720, United States of America