One of the contributions could be used to improve the quality of OpenStreetMap is by importing existing datasets. However, if you don't pay close attention, you may end up doing bad imports. Here, we collected some suggestions to guide you to import existing dataset into OSM correctly.
1. Type of data import
According to documentation in OpenStreetMap, only these physical features can be imported into OSM. They are:
Point: locations that can be presented by a single dot on the map, for instance, bank, restaurant or post office, etc.
Lines: the feature can be presented as lines, for instance, roads, trails, bike lanes.
Polygons: can be defined as a closed line, for instance, buildings, farmlands.
In the following picture, you can see how all the physical features that show and can be rendered on a digital map.
2. Data format for OSM
The default dataset extension of OSM is ".osm". OSM data files are traditionally distributed in an XML format, and indeed it is still structured very much like XML. You can see an example as the following figure.
Example:

Converting other dataset to OSM In Java OpenStreetMap editor (JOSM), you can only edit feature data in '.osm' format. If your data is packed in other data formats, we list all the possible conversion tools in the following table that you can use to convert your dataset into '.osm'.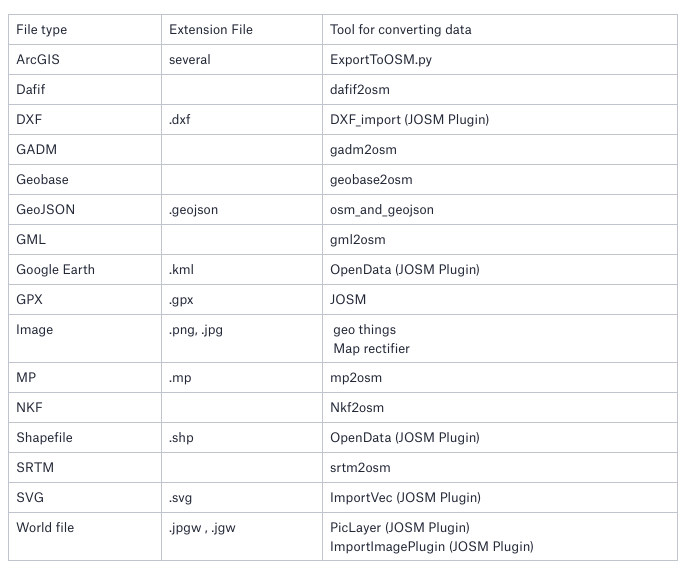 3. OSM data license and permission
Once the dataset is in the correct format for OSM, you may consider OSM data license or permission. There are two kinds of scenarios:
Scenario 1. You own the data you are going to import into OSM, so you should consider an open source or public domain license. The public domain means it will be free and open to being used by anyone for any purpose without restriction under any copyright law.
Scenario 2. If the dataset originally owned by a third party, you need to have the permission to import the data into OSM. To obtain a permit, you can find some letter templates here. For specific details of the permission of data ownership, you can go and view it on Open Data Commons Open Database License(ODbL). If the data owner request, it needs to be addressed in the contributions specifically.
4. OSM data importation plan
You need to create a plan for any OSM data importation you are going to take, and the plan can be outlined as:
For specific you can see the following examples:
Register import plan. Edit and add your import plan in wiki OpenStreetMap Page: OSM Catalogue imports.
5. Data importation and communication with OSM community
Someone else may be working on importing the same dataset you have. Your dataset may be relevant to a region but not to other parts of the world. Therefore, keeping the OSM community informed of your intention is important. Before you import your dataset into OSM, please:
Send the import plan to country mailing lists.
Subscribe to import mailing lists to hear what the community has to say.

Send messages to local OSM users. You can find local OSM mapper groups by:

User groups: shows a map of the user groups by their geolocations;
Who's around me? will show users who are close to your geolocations.

Also, send an email to imports@openstreetmap.org

Wait for approval of the import plan, if the local community has been approved your import plan, go ahead with the import process.
6. Other recommendations we have for you
Update your mapping project constantly.
Try to accomplish the schedule of your import plan.
When you are importing dataset into OSM, we recommend you to start with a smaller dataset. You should split a large area into smaller areas too.
Using high-resolution imagery, e.g. ESRI World Imagery, DigitalGlobe Standard Imagery, DigitalGlobe Premium Imagery, or Bing Aerial Imagery, to evaluate your dataset are recommended, but be minded that the imagery can be out of date.
Ask local mappers to validate and update your data that imported into OSM.
Questions?
Let me know if you have any questions.