I posted some information about the MediaLab Chrzelice (Culture 2.0 Camp) here but now that I think of it, it was also a sort of a Mapping Party, even if very chaotic because I'm a poor organizer and because of the rush. (also most likely the first osm mapping party in Poland)
So here are some thoughts about it as a mapping party and some of my impressions, in case they're useful to anyone else making a similar event.


Downside: there wasn't much time because in the "Digitisation" workshop the map was just going to be used as a tool.

Downside: the GPS loggers that we ordered had not arrived on time. Instead we used three GPS-equipped phones (one was android based, OSMTracker installation went without problems and the program worked really well, two other ones were nokia Symbian(?)-based and the NokiaSportsTracker application also worked well although things like saving tracks were not immediately obvious)

All of the workshop participants (about 14?) were new to OSM except one.

Most people had historical / ethnology / sociology / .. research background.

I had just about 30 minutes to introduce everyone to OSM on the first day, tried to take the workshop's theme and the village's history into account. Explained how there wasn't any really free source of geo data in that region and that the governments probably will release the data in a couple of years (which would make our efforts pointless) but that OSM will probably have a role in speeding up that point, and about things we can add that governments don't have like all the wheelchair navigation aid data.

Didn't have any slides but showed some wiki pages and, importantly, two videos: first the sward's Bradford mapping party animation of Sep 27 2008, and second the ito's A Year of Edits 2008.

Upside: Some participants got really enthusiastic about mapping, about eight people chose to join the mapping part of the workshop (the other eight recorded interviews with some elderly villagers, scanned documents etc). I heard at least three or four people in the mapping part of the workshop urging to "go mapping already" and also asking about the software to input data (JOSM).

I'm not sure but I think that the A Year of Edits video made a great impression on people.

We also went out to fly a kite and a balloon (on the first day, with no wind) and make aerial imagery. Seems to have been a great bonding factor even though we didn't manage any decent imagery. Specially on the second day when wind was rather strong and it really required a group effort to hold the kite line.

By the time we sat down to put the collected data into OSM (about 5 people only who had data and had their laptops) everyone had JOSM already installed on their own, out of curiosity.

Since the village was too small to do a cake diagram, we didn't divide the area and so we had lots of overlap and lots of conflicts when editing. It's worth to learn to resolve conflicts quickly if you're going to make a workshop like that, even though they almost never happen in practice, when mapping alone. Also was a good idea to make it a habit to announce it whenever somebody in the room uploads a changeset so that everyone updates their local copy immediately.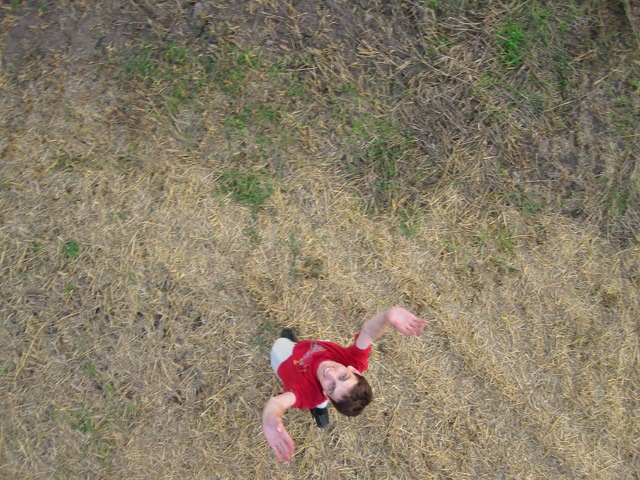 Two more pics at
http://blog.openstreetmap.pl/2010/warsztat-chrzelice/
Location:
Stawiska, Jeleni Dwór, Chrzelice, gmina Biała, powiat prudnicki, Opole Voivodeship, 48-220, Poland