Foreword
I live in the St. Ann's electoral ward of the City of Nottingham. As well as wishing to be able to improve the coverage of old_name + start_date for each street in Nottingham, I am intrigued to be able to discover when streets were laid out, metalled, drained & provided with sewers. Today that all seems normal, but I was astonished to discover that Blue Bell Hill Road had no street drainage nor sewers until the 1970s; a friend in Dowson Street has a well in their basement, whilst their road also has zero street drainage nor sewer, plus no water main through the street (water supply, sewer + drainage only at the rear of the terrace).
Like many cities in the UK, Nottingham has suffered shed-loads of physical upheaval/churn across the years. That has led to the appearance, alteration, disappearance and/or reappearance of streets and thus of street-names. I've recently gotten access to definitive information on (at least some of) those changes, and decided that I should strike the iron whilst it is hot. This diary is going to concentrate on local streets + national communication (rivers/canals/railways) as they apply to Nottingham City; it will also filter in items of national importance that occurred in Nottingham.
First, here is the OpenStreetMap Wiki on names.
Second, the principal sources I've been using:
Summary
The national view of Nottingham in the early 18ᵗʰ Century was of it as a "garden town". As one example, the land immediately south of the town was a large meadow, was flood-lands for the Trent, Leen & Tinker's Leen, was common-land (meaning that it could not be bought or sold), and was used by all town-folk for recreation. In fact, most of the town was surrounded by common-land, and that fact acted as invisible walls which kept the town constrained in size for centuries.
The town was two centres (Castle + Lace Market) surrounded by 5 fields (see Sanderson's map immediately below for the fields as following):–
Clay Field (north-east)
Sand Field (north-west)
The Park (west)
The Meadows (south)
Sneinton (east; town + fields)
The town came into prominence nationally because a mile or two south of the town was a bridge across the Trent (the old Hethbeth stone-built bridge is pictured above left in 1871, whilst the 1868 cast-iron bridge completed in 1871 is above right; Creative Commons CCO License). For centuries Hethbeth bridge was the only means to safely obtain passage between south & north of England on the East side of the Pennines (the Trent flows into the Humber, and both rivers are far too wide & strong-flowing below West Bridgford to be easily forded in medieval or earlier times). In fact, the bridge was so important to England that a Bridge Estate (charity) (pdf) was established in 1302, and grants of land continued to be made by the king up to the days of Edward Ⅵ (1551), so that finance was available to keep the Bridge maintained. One of the most famous lots in that estate is St. Ann's Allotments (originally fields let out to graze cattle) and I see them from my attic window each morning, as the allotments are pitched across the opposite slope of the St. Ann's valley to the one that I live atop. They are the largest garden allotments in Europe, and can be seen as "Hunger Hill" in the map below. They were originally agricultural lots & first became garden allotments in Victorian times; the council had a bad habit of snipping off perimeter lots from this Bridge Estate property for their favoured building projects, and that only stopped when the Allotments obtained a Grade Ⅱ* status.
Above is part of the Map of the County of Nottingham from 'a Careful Survey Made in the Years 1834 & 1835' by George Sanderson; note that this circular map is kept as one of the 80,000 maps within the collection of the University of Nottingham School of Geography in the Edwards Resource Centre, that they have an Inventory (pdf) and that they also have an online-browser.
Above is the Nottingham Rail Station on Carrington Street, the 3ʳᵈ & final station on the site & Grade Ⅱ* listed.
As the late 18ᵗʰ Century approached, Nottingham began to be degraded by an on-setting revolution. The Industrial Revolution began to pickup steam & at that time gained it's greatest expression in the UK. There was a massive move of humanity from working on the land to working within factories & workshops. At the same time, general population numbers began to grow, slowly at first and then exponentially as the 19ᵗʰ Century began to age. Nottingham needed to change if it was to survive & safely enter the new age.
The first essential was to be able to expand the size of living space available within the town. That was fatally underlined when the 2ⁿᵈ Cholera Pandemic (the first English cholera epidemic of 1832) filled all remaining spaces within town cemeteries, and thus the establishment in 1835 of St. Ann's Cemetery outside of the town's boundary.
Enclosure of the common-lands north & south of the town were the obvious next step and finally, on 30 June 1845, the Nottingham Inclosure Act got Royal Assent to enclose Clayfield, Sandfield + the Meadows ("Inclosure" is the more ancient form of the modern word "Enclosure"; the ancient word tends to get used , who died in action on in parliament bills). The act contained provisions for parks & recreation allotments which would create a 'green collar' in the town. That can be seen very clearly in the photo above looking east across the Arboretum towards Elm Avenue & the Corporation Oaks Reservoir, the line of Robin Hood Chase below (to the right in the photo, below the circle of the Reservoir) and the green spread of St. Ann's Allotments beyond Corporation Oaks. The routine of Inclosure was long-established from other districts with many other enclosures that had preceded it: a couple of years of argy-bargy, lots of hard work & those in power could then decant large amounts of money straight into their own pockets.
In this case it took 20 years. Almost up until the end, the issue of roads & sewers was left unaddressed. It needed both council & commissioners to agree to work together and that rarely happened. In the 1920s the old-town slums were cleared, and in 1970 the St. Ann's & Meadows slums (which the requirements of the Inclosure were supposed to prevent) were cleared. That's an awful lot of new (or cleared, or renewed) roads.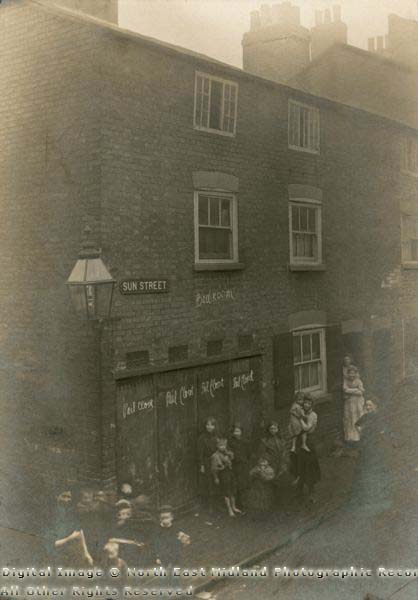 Our final, deeply septic view of Nottingham's changing scenery, is going to be with the 1912 photograph above of Sun Street (featured within MSS Photographs). The view is of 4 "pail closets (privies)" directly under the bedrooms of the end-house. The pails were emptied into a cart at night & pulled through the streets to the Sanitary Wharf near the Low-Level station at London Road. The carts were emptied into canal barges. The contents were transported to Grantham fields & spread as fertiliser.
The photograph was used as evidence by the city council, and the street was torn down, probably in the 1920s. That photo will likely be our only evidence for it's existence - the street does not feature in any maps (that I know of).
MSS reports it as being formerly Sherwin Street, and that does feature within the 1862 Salmon map (refer to the MSS maps page). Sherwin Street ran south from Southwell Road, and the next street to the east is Manvers Street. Both of those latter streets still exist, but apart from Nelson Street every other street in the vicinity (including Sherwin Street & Sun Street) has disappeared, and been replaced with Market or City Transport buildings.
The point of this photograph is that the 1845 Inclosure Act carefully detailed acceptable building practices & required provision of Sewage disposal, and stipulated the position of Official Referee & Umpire to enforce them, and those houses above prove that the regulations were often worthless if money spoke louder. Thomas Hawksley reported in 1844 that "the average age at death amongst males was only 20.5 years", and this photo shows part of the reason why.
Details
800s Nottingham is one of the "'Five Boroughs' of the Danes".
868 King Ethelred Ⅰ and his younger brother Alfred (the Great) force the Danes to make peace & retreat to York.
924 First Hethbeth bridge constructed (original Trent Bridge) by King Edward the Elder, who also fortified the town with a wall.
1068

William the Bastard orders building of a Royal Castle (wiki); this would have been full motte & bailey with all the trimmings, though in wood, built on the then-barren Castle Rock which overlooks The Meadows & The Park; council Conservation areas are in place for all 3. The Castle's wooden structure was replaced with a stone structure during the reign of King Henry Ⅱ.

Main items within the Castle timeline:–

1068: Start Date
1194: Battle: King Richard Ⅰ ('Lionheart') & Prince John
1252: Start Date for Castle Gatehouse
1330: Mortimer's Hole
1346: King David Ⅱ of Scotland held prisoner
1403 — 1437: Queen Joan in residence
1461: Edward Ⅳ proclaims himself King
1485: Richard Ⅲ departs towards a car-park in Leicester
1623: Sold to Earl of Rutland
1642: Civil War: Charles Ⅰ plants his standard
1651: Destroyed by Parliament
1674: Cavendish buys ruins, builds new Castle
1768: Holles dies, Castle is abandoned
1831: Reform Riots: trashed & burned by mob
1832: Duke takes the money & runs
1876: Burnt-out shell rebuilt
1969: Castle Conservation Area declared

Domesday Book records the Manor of Clifton:– "one priest, one church, a population of 33". A council Conservation area was put in place for this in 1969 & extended in 1997; there is a pdf available.
Domesday Book records Nottingham as 'Snotingeham' and 'Snotingham'.

1000s late (date uncertain): The Park created as a deer park; stocked by deer from Sherwood Forest (which, at that time, came right up to Nottingham border within Clay Field); for four centuries the Castle was the Kings' principal residence in the Midlands; there was a substantial fishpond in The Park (only the street-name survives).
1100: Start Date for St Peter's Church, St Peters Gate (Grade Ⅰ listed).
1140 The town is almost destroyed by fire.
1153 A second attempt to destroy the town with fire.
1155 Henry Ⅱ granted Nottingham a Royal Charter.
1156 Second Hethbeth (Heath-beth, or Heck-beck) bridge started; >20 stone arches.
1180: St Peter's Church, St Peters Gate (Grade Ⅰ listed) rebuilt following a fire, plus continuous rebuilds ever since.
1189: Start Date for Ye Olde Trip to Jerusalem, Brewhouse Yard (Grade Ⅱ listed). A splendid pub with many rock-cut nooks & rooms at the rear. Good food & beer, too!
1190: Start Date for St Mary the Virgin Church, Holgate, Clifton (Grade Ⅰ listed) + Churchyard Walls & Gateway (Grade Ⅱ listed)
1194 Battle at the Castle between King Richard Ⅰ ('Lionheart') & supporters of Prince John, including the Sheriff of Nottingham. Yup, those guys. This is indeed supposed to be history, and the battle lasted just a few days with victory for Richard.
1244 Rabbits brought into England from France, which then bred like humans; The Park was stocked with them.
1284 February 12: Edward Ⅰ grants a Charter to Nottingham:

"St Mathew's Fair": the right to hold a fair on St Matthew's Day, which leads to Goose Fair.
Post of Mayor created (wiki); 1ˢᵗ Mayor is Roger de Crophill.

1200s (late): Gervase de Clifton buys the Manor of Clifton & styles himself after the seat. This is the likely start_date for the first Clifton Hall, although the current building is reputed to have been constructed in the 1500s.
1252: Start Date for the Castle Gatehouse, Castle Road (Grade Ⅰ listed) (completed 1255). Built for Henry Ⅲ. Only 3 of these medieval gatehouses survive in the country.
1290 July 12: Jews in Nottingham were forced to leave the town & country, despite having lived in Nottingham for at least 2 centuries.
1301 First Record of the Brodewell (St. Ann's Well) (elsewhere called "Oswell" & "Robin Hood's Well"); location of the natural spring that became a stream flowing through the valley towards the River Leen & was originally known as the 'Bek' & later the 'Beck'.
1302 Earliest mention of the Bridge Estate (pdf).
1315: Start Date for St. James's Street. It's original name was Jam Gate, then St James Lane, and in the 1800s it became the modern St James' Street.
1319: Start Date for 56 Village Road, Clifton (Grade Ⅱ* listed)
1330

A Parliament is held in the town.
Oct 19: The Castle is the scene for a coup d'état by King Edward Ⅲ against his mother, Isabella of France & her lover Roger Mortimer. The adulterous couple were rumoured to have murdered her husband (this includes the infamous rumour of use of a red-hot poker) & were now Regents for her under-age son. Shortly before his 18ᵗʰ birthday, Edward gained ingress to the castle via a secret tunnel (today known as "Mortimer's Hole", there is no wiki for this, but there is a short YT video utilising 3D scans to show it) + a door at the top unlocked from within. His mother was forced into retirement & Mortimer was sent to the Tower of London, then on 29 November 1330 hanged at Tyburn.

1335: Start Date for Castle Gate: [The Severn's Building (Grade Ⅱ listed (every house in this block is HE-listed))]; this was originally built in Middle Pavement & was removed lock, stock & barrel to Castle Gate in 1970.
1346 King David Ⅱ of Scotland was held prisoner within the Castle. There is a subterranean structure beneath the Castle named after him (see a YouTube 3D-fly-though).
1377: Start Date for St Mary's Church, High Pavement (Grade Ⅰ listed)
1392: Start Date for Plumptre Hospital, Poplar Street (Grade Ⅱ listed). The HE entry locates this building on Plumptre Square; the Highways Register places this square at both ends of Pemberton Street and many places in between & around.
1403 until 1437: The Castle was the main residence of Joan, Henry Ⅳ's queen. After Joan's departure Castle maintenance is neglected.
1449 Charter of Henry Ⅵ constitutes Nottingham as a distinct county, with the right to appoint its own sheriff for the first time (wiki) (before this year Nottingham would have been subject to the High Sheriff of Nottinghamshire), + Lord Lieutenant and it's own Assizes.
1450 Start Date for 31 Holly Cottage, Village Road, Clifton.
1461: Edward Ⅳ proclaims himself King at Nottingham Castle during the Wars of the Roses. As Earl of March (and distant relative of Roger Mortimer - see 1330) Edward was on the York (White Rose) side of the opposing parties.
1485: Richard Ⅲ, brother of Edward Ⅳ & the last of the Plantagenets, departs the Castle for Bosworth, where he lost his life in battle against Henry Ⅶ. Henry was the first of the Tudors, and on the Lancastrian (Red Rose) side of the opposing parties within the Wars of the Roses.
1500s: Start Date for 29 Hardy's Cottage, Village Road, Clifton (Grade Ⅱ listed); this was originally two cottages: 27 Clematis Cottage + 29 Fern Cottage.
1513 Grammar School founded in Stoney Street.
1551 Feb 21: Royal Charter establishes Bridge Estate (pdf) with Nottingham Corporation as trustee.
1580 Start Date for Wollaton Hall (Grade Ⅰ listed), completed 1588.
1500s late: Start Date for Clifton Hall, Holgate, Clifton (Grade Ⅰ listed) + Coade Stone Lions near the garden (Grade Ⅱ listed) + a residential home for ghosts.
1612 King Charles
1616 King James Ⅰ visited Nottingham.
1624 King James Ⅰ visited Nottingham.
1634 King Charles Ⅰ & his queen spent 5 nights at Thurland Hall (the Hall was torn down in 1831, and is the source for the name of Thurland Street).
1642 Aug: Civil War: Charles Ⅰ chose Nottingham as the rallying point for his armies (hence Standard Hill). Soon after he departed the Parliamentarians moved in & made the Castle Rock defensible again. There were a number of attempts by Royalists to re-take the Rock, but the Parliamentarians held it at the last.
1600s mid: Start Date for Castle Gate: [53 (Grade Ⅱ listed) (every house in this block is HE-listed)].
1605 Burgess Parts: Corporation leases two/three acre plots to 30 Burgesses (freemen) of the town (beginning of St. Ann's Allotments).
1646 Goose Fair cancelled for the first time due to an outbreak of the bubonic plague.
1651 Nottingham Castle destroyed by Parliament.
1658 Smith's Bank established in Nottingham slab-square; self-declared as The Oldest Provincial Bank in England.
1666 William Cavendish, Earl of Newcastle Upon Tyne, becomes 1ˢᵗ Duke of Newcastle.
1667 Last outbreak of Plague.
1674 Cavendish purchases Castle ruins, builds his new ducal palace in Italianate Classical style, and calls it 'Nottingham Castle' (completed by son William Cavendish in 1679).
1675
1683 Northern half of Hethbeth bridge washed away by a flood; repaired bridge was reduced to 15 arches; being washed away by floods happened a lot to this bridge.
1600s late: Start Date for Castle Gate: [49 (Grade Ⅱ listed)], [51 (Grade Ⅱ listed)] [55 (Grade Ⅱ listed (every house in this block is HE-listed))].
1700s early: Start Date for Clifton Dovecote, The Green (Grade Ⅱ listed). This is supposed to be the largest dovecote in the country, with 2,300 nesting places. That is a remarkably large amount of bird poop to be aimed at your car windows, although the roof looks remarkably clean.
1709 Start Date for George Wells Almshouses: [1] [3] [5] Clifton Green, Clifton (Grade Ⅱ listed - all 3 cottages share the same listing) + 3 listed sheds (no kidding) in the extensive garden:– Shed #1, Pavilion #2, Pavilion #3.
1711 Cavendish's son dies without a son or daughter; nephew and heir, Thomas Pelham Holles, subsequently re-created 1ˢᵗ Duke of Newcastle in 1714.
1738: Start Date for Low Pavement 20-22 Willoughby House (Grade Ⅱ listed). This was built by Rothwell Willoughby — brother of Lord Willoughby of Wollaton Hall — and today is home to the Paul Smith shop.
1700s mid:
1752

Goose Fair moved from 21 September to early October due to changes in the Gregorian Calendar.

1760
1768 Holles dies without a son or daughter & is succeeded by his nephew as 2ⁿᵈ Duke (these blokes only have one job …); the Castle is abandoned, whilst townsfolk begin to treat The Park as common land.
1781
1788
1792
1793

A cavalry barracks, built on a 4 acre plot of land in the north‑western corner of The Park, is the only building (abandoned 1860 - only the street-name remains).

1794

2ⁿᵈ Duke of Newcastle dies; succeeded by son Thomas Pelham Clinton.

1795

3ʳᵈ Duke of Newcastle dies; succeeded by 10 year old son, Thomas Pelham Fiennes Clinton (4ᵗʰ Duke; trustees appointed).

1796

Sneinton Inclosure Act.
(alt: February 27th 1797 is given for enclosure of the Lordship of Sneinton)
ref London Road: Act of Parliament obtained 'For raising, maintaining, and keeping in repair, the road from the north end of the Old Trent Bridge to the west end of St Mary's Church­yard…'.

1798

Inscription:– Lord Byron wrote his first piece of poetry with the verse: "In Nottingham County there lives at Swine Green as curst an old lady as ever was seen …".

1700s late:
1800s early:
1807
1809
1810

Mount Street: a rename of the former Bearward Lane. One of the city's oldest streets, it got that old name due to being a scene of bear-baiting (finally outlawed in England in 1849).

1811

Luddites began their activities in Nottingham.

1818

28 September: A canal warehouse near Wilford Street was destroyed, and either 2 people or 16 men & boys died when a man named Musson decided to drop a hot cinder onto a little spilt gunpowder. 21 x 100lb (45kg each, 953kg total) barrels of gunpowder were in transit from Gainsborough for use in the Derbyshire mines, and had been delivered by The Nottingham Boat Company via the Trent. Boats were destroyed, buildings damaged, and Musson discovered the temporary joy of 126 yards (115m) of aerial flight. The insurance company refused to payout & the Boat Company pled poverty after being successfully sued & told to pay $1,000 + costs (equivalent to $60,000 in 2022).

1819
1820
1825
1827
1828
1829
1831

1ˢᵗ continuous, pressurised, filtered-water supply provided in the country in Nottingham. As the supply is extended in scope the incidence of Cholera in the town reduced, until in 1848 (a 2ⁿᵈ outbreak) there are zero fatalities.
North Road established.

The townsfolk were upset at the growing loss of recreation in The Park due to the 4ᵗʰ Duke's plans & actual building. However, the deeper issue was political corruption.

The entire nation had changed radically, but politics & Parliament had not:–
only 5% of the British populace were able to cast a vote at a general election
some new urban centres had no MPs at all (eg Manchester)
many political constituencies were rotten boroughs (literally bought & sold)

March: The Whigs under PM Earl Grey were in favour of political reform, whilst the Conservatives ('Tories') under the Duke of Wellington were agin' it. Grey introduced a Reform Bill. It was defeated by the Tories, so Grey resigned & was re-elected with a majority.
Oct 8: A 2ⁿᵈ Reform Act passed in the Commons but was defeated in the House of Lords.
Oct 10: The 4ᵗʰ Duke of Newcastle was one of those that voted against the Great Reform Bill in the Lords. The Nottingham population erupted in full-scale riots (also in Bristol and Derby), and the Castle (empty at that moment) was trashed & burned. Scots Greys cavalry were deployed in Birmingham. Serious disturbances were reported in London, Leicester, Yeovil, Sherborne, Exeter, Bath and Worcester.

1832

Between 40 & 50 houses had been built so far within The Park by Robinson for the Duke.
Jan: 26 Nottingham men were tried for the 1831 riots, 8 were found guilty and 3 were hanged.
May: Grey resigned & Wellington tried, but could not form a government. Grey was recalled by King William Ⅳ and passed a Third Reform Bill. The King now threatened to flood the Lords with new Whig peers. The Tories abstained & the measure now passed.
June 7: The Great Reform Act was passed into law.
August: The 4ᵗʰ Duke was awarded £21,000 in damages (equivalent to £1.7m in 2022) re: his burnt-out Castle during the Reform riots of October 1831. He took the money, but refused to repair the Castle and left it as a burnt-out shell. In a further fit of pique, this petulant child suspended all building work in Nottingham.
1ˢᵗ UK Cholera Epidemic killed so many townsfolk that all town cemeteries were filled.

1834

Surveyor George Sanderson, of Mansfield, drew the circular map "Twenty Miles Round Mansfield" in 1834 & 1835.

1835

Samuel Fox donated land just outside the town boundary to establish St. Ann's Cemetery, known to the townsfolk as the Cholera Cemetery (and now as St. Mary's Rest Garden).
Parliament enacts the Municipal Corporation Act. The 1832 Reform Act had reformed parliamentary constituencies; this Act was designed to correct corruption within Municipal Corporations. It provided for specific changes to 178 named boroughs. In Nottingham's case it superseded the 1449 charter. As just one clause, each of these boroughs was required to setup paid police forces.
Homes built on Park Valley: [4 Hollyhurst (completed 1845)] [6 Stuart Cottage (completed 1845)].

1836

Nottingham City Police first founded as "Borough of Nottingham Police" under the auspices of the 1835 Act. It consisted of 15 men working under the existing High Constable William Barnes. It failed miserably after 5 years due to "internal rivalries … and general incompetence". Re-launched in 1841.

1837

June 20: Victoria crowned Queen of the United Kingdom of Great Britain and Ireland.

1838
1839

Inclosure of Lammas Fields (Wellington Circus), Burton Leys (centred on Trinity Square & Burton Street) and West Croft (put simply, this was the area to the west of the modern Eastcroft Depot; see also the council Station Conservation plan (pdf)).
Midland Railway (MR) open a station terminus in the town west of Carrington Street; the town council extended Carrington Street to the south to link up with the station + constructed Station Street to link the station with London Road. A spur was constructed from the canal to linkup with the Goods Yard. A brick humpback bridge remains, carrying the towpath over the beginning of the spur.
An almost-pointless Westcroft Canal was cut, running from the existing Nottingham Canal just east of Carrington Street and running due south under the rail-lines, then turning east halfway between Station Street & the future Queen's Road (see 1843) it re-joined the Trent Canal. It served some coal wharves, but the railway dealt it a quick deathblow in 1869.
A parliament Standing Order decrees that all future Inclosure bills must make provision for open spaces for recreation.

1840
1842
1843

St. John the Baptist Church founded on Leenside as the parish of the The Marshes (Broad Marsh, Middle Marsh and Narrow Marsh); (Leen Side was cleared in the 1930s; the Church was located north of the modern Canal Street, approx. where Shortwood Close is today). It was consecrated in 1844. It soon had a regular congregation of 1,600.
Monday 4 December: Queen Victoria and Prince Consort passed over Heth Beth Bridge (see 920) in their progress from Nottingham railway station to Belvoir Castle, which accounts for the Royal Arms being displayed upon the present bridge in memory of that occasion (reported in Notts History, but the date there is wrong, see Queen Victoria's Journals); Queen's Road was constructed on that very day especially for the visit — see Notts History.

1844

Reported in this MSS webpage are the words of the water engineer Thomas Hawksley speaking to a Royal Commission in 1844, p136:–

"Of the death rate in Nottingham, which was 25 percent above the national average, he commented that the average age at death amongst males was only 20.5 years, although 'the situation of the town is decidedly salubrious, and the occupations of the people not necessarily unhealthy"

Tunnelling on the Park Tunnel, along the same route as indicated on Robinson's earlier plan, stopped (half the route had been excavated at the point that it was abandoned).
TC Hine-designed homes built on Western Terrace: [7 + 8;9 Huntingdon House + 10 (Grade Ⅱ listed)].

1845

June 30: Royal Assent given to the Nottingham Inclosure Act (pdf); this affects the 2 large adjoining fields of Sand Field & Clay Field to the north, plus the large, low-lying Meadows to the south; 3 Commissioners were appointed.
The Nottingham Review (newspaper) + Whigs (political party) are pro-Enclosure
The Nottingham Journal (newspaper) + Conservatives (political party) wanted an Improvement Act (rather than an Inclosure) to fix the roads & Sanitation
Aug 1: the Inclosure Commissioners appoint an Umpire, a Clerk, an Official Referee, plus their Bankers.
Aug 20: 2 of the 3 Inclosure Commissioners resign.
Dec 29: the Inclosure Umpire dies.
TC Hine-designed homes built on Park Valley: [5 (completed 1850)] [9 (completed 1850)] [11].
TC Hine-designed homes built on Western Terrace: [3 + 4 (Grade Ⅱ listed)] [5 + 6 (Grade Ⅱ listed)].

1846

Albert Street built.
Jan: Frederick Jackson appointed by Inclosure Commissioners as Surveyor & commissioned to survey the land to be enclosed (NAO: CA 8212/1-4) (after viewing this astonishing map at the NAO I paid for and photographed the concise print of that map, and informed them that I was going to release my photo into public domain; they told me that I could not do that; I am fairly sure that they cannot stop it (advice welcomed), but deleted all my photos & got my money back).

This was performed in at least two tranches: 1851 + 1861.

Curiously, Blue Bell Hill Road is already on that map, as are plots for the streets that became Ridgway Street through to Edginton Street; St. Bartholomew's Church does NOT exist, and neither does Saint Bartholomew's Road, though there is a Bartholomew Stile Footway (even longer than the modern road, it swings to the north at the top & reaches the edge of Jackson's map).

1847
1848

Latest nationwide cholera epidemic (which Nottingham escaped); burns itself out in 1849.
MR extend their rail-line to Newark & Lincoln and transfer Nottingham services from the old terminus station west of Carrington Street to the site of the current through station, newly opened. The old terminal becomes a Goods Station & gets 2-story offices in 1875, being eventually replaced by a set of legal offices. The only elements of the terminus station that survive are the gate piers (Grade Ⅱ listed) that frame the current entrance on Carrington Street down to the Canal towpath and the Magistrate's Courts.
TC Hine designed homes built on Park Valley: [7 (Grade Ⅱ listed)].

1849

Sale of land to meet Enclosure costs (Southey Street).
New Sanitary Committee starts demolishing insanitary houses (built over privies) & other actions to improve matters.

1800s mid:
1850
1851

Jun: Jackson's plan is exhibited, and land begins to be released; 120 acres allotted to town Corporation in Trust to create a "green collar" for the town, and this creates continuous avenues of trees.
Aug: commissioner George Sanderson dies.
The 4ᵗʰ Duke of Newcastle dies; his son Lord Lincoln succeeds to the title as the 5ᵗʰ Duke.
The 1ˢᵗ steam-powered factory is built by Hine & Mandella at what is now the site of Loxley House.
TC Hine-designed homes built on Park Ravine: [1]; note: the Park wiki states that this house is on Clifton Terrace, whilst the City Highways Register disagrees.

1852
1854

Local architect Thomas Chambers Hine is appointed "Surveyor of the Newcastle Estate", superseding Robinson.

1855

TC Hine finishes the Park Tunnel. He has also produced a plan for the entire Park Estate, modified from that produced by Robinson to actually fit the topology. The layout shown within the 1862 Salmon map (see MSS maps) is almost identical to Hine's plan. A storm of building begins within the Estate and many Nottingham architects make their name across the next decades with National Heritage-listed houses.

The Nottingham Council Park Estate Conservation plan identifies 355 large estate houses that were built in the Park before 1918. It declares the Park to be "predominantly residential with approximately 450 houses and 700 flats", and a resident population of 1,900 (in 2007). Many of those flats were created within the pre-1918 houses (which also is the predominant fashion with landlords throughout the UK). 12 of the original 355 pre-1918 estate houses have been demolished & replaced by small houses or flats.

Holland Walker (whoever s/he is) states "there is some evidence to suggest that from 1855 'Siberian Elms were freely planted along newly laid out roads'". The 1882 OS map, surveyed in 1881, is very detailed and shows regularly spaced trees at approximately 8.5 metre intervals along most of the estate roads (about 1300 then, 550 in 2007). Tree Preservation Orders were made on Park trees in 1966 & 2002. The tree species include sycamore, common lime, London plane, ash, beech, English oak and horse chestnut, with more recent additions including Norway maple, cherry and rowan.

The Nottingham City Highways Register shows that Park streets & pavements are, indeed, unadopted (see this 2016 post for more on that key). None of this is currently within OSM so I'm adding 'unadopted=yes', 'start_date=1855' + 'operator=Nottingham_Park_Estate_Ltd.' to almost all Park streets.

Some Castle Conservation streets are also unadopted, although I am unsure as to the Operator in that case. This creates an oddity, as the very first domestic building in the Park (St Mary's Vicarage + St Peter's Rectory, built 1809) is today placed in the Castle district & streets next to that building are adopted by the Council. Standard Hill on the Park side of King Charles Street is unadopted, yet placed entirely within Castle rather than Park.
TC Hine designed homes built at Park Ravine: [Terrace House].
TC Hine designed homes built at Lenton Road: [1+3 Castle Rising (Grade Ⅱ* listed)].

1+3 Lenton Road are HE Registered, but there appears to be a mistake in the Historic England #1270736 listing. The status is: "Castle Rising (3) and attached area railings; 6 Castle Grove". The HE GPS location marker for this listing is at the middle of the centroid for 1+3 Lenton Road. The Ordnance Survey map used by HE shows the front-doors for 1+3 facing on to Lenton Road (same as OSM), whilst the door for #6 is at the Castle Grove side of 1 Lenton Road. OSM has #6 on the same wall as 7 Castle Grove's front door — I have zero knowledge as to which is accurate. 6+7 Castle Grove were also built by Hine the following year, though in a different brick, and share a common wall with 1 Lenton Road. 7 Castle Grove is positioned on the corner of the two roads.
Nottingham Canal ownership passes into the hands of a Railway company (Ambergate, Nottingham, Boston and Eastern Junction Railway Company); all canals had declined in profitability as soon as Rail companies got their knees under the table.
Nottingham Chamber Committee complains that Inclosure is not yet complete after 10 years & no land can be resold until it is.

1856
1858
1859

Feb 28: town council agreed to adopt the 1858 Local Government Act ; Corporation became a Board of Health, taking over responsibilities for streets, buildings, sewers & slaughter houses.
Oct 6: Marriot Ogle Tarbotton appointed as first full-time Borough Surveyor.

Tarbotton completed a report on the sanitary condition of the town. In the Meadows, houses were built with ground floor rooms below the flood level of the Trent. Many were drained into cesspools, none had drainage with a proper outfall, and most took their water from wells. 752 houses built, of which 500 lacked adequate drainage (period 1859-60: this is a clear flouting of the Inclosure regulations, and suggests that the referee was unable to enforce the rules). Inclosure commissioners were supposed to, but had not, sorted out sewers for these new houses. In addition, many of the houses were not raised above the ordinary level of the ground, and are consequently at the same level as the sewers must be laid, and thus are liable to be flooded and permanently damp. (RBN ix, 148-9).

Tarbotton: There is no correct plan of the town or neighbourhood in the hands of the corporation, no established system of levels, no complete record or plan of subterranean works and sewerage, and there are no public data whatever to aid the consideration of a subject like that of sewerage … most public improvements and operations have been conducted irrelatively.

1860

Letter from town clerk to Inclosure Commissioners: "several of the public roads set out by you are not yet either sewered, paved or macadamized … until your award is made no public body has power to interfere. This state of things is calculated … to produce disease".
TC Hine-designed homes built on Park Row: [East Lodge (Grade Ⅱ listed)]

1861
1862

November 25: Notts County Football Club founded (web wiki). Oldest professional association football club in the world.
River Leen is culverted & caused to flow into the canal; the old course is filled up solid & abandoned; the Leen is now consciously used to dispose of the town's sewage.
Edward W. Salmon released his map: "Plan of the Town of Nottingham and its Environs"; see the MSS page with high-quality scans of sections of Nottingham maps produced in 1707, 1744, 1820 and 1862.

Things to note:–

in 1820 the Bek (then known as "River Beck") which rises at St. Ann's Well, has not yet been culverted and still flows down St. Ann's Well Road, turns left into Brook Street, flows south-east and then essentially becomes the eastern boundary of Nottingham as it flows due south from Snenton (sic) into the River Leen and thence into the River Trent.
in 1862 the stream is fully culverted
the Bek surprisingly avoids the 1820 Beck Street, although the modern Beck Street does pass along it's old stream bed.
no Trains supply the town in 1820, only the Canal
in 1862 far more trains (at least 3) supply the town than today
the southern navigation of both the Leen & Tinker's Leen are dramatically different in 1820 to today
building in the south of St. Ann's in 1862 has begun, with Robin Hood Street, Promenade, etc.; the beginnings of the modern town can clearly be seen.

1863
1864

Death of 5ᵗʰ Duke; the Newcastle Estate becomes now managed by Trustees.

1865
1867

May 24: The powers of the Inclosure commissioners were transferred to the Highways Committee, who then took responsibility for completing the new roads & sewers (NAO OA 7732).

1868
1869
1870
1871
1872
1873
1875
1876
1877
1878
1879
1880
1881
1882
1883
1884
1885
1886
1887

TC Hine-designed homes built on Duke William Mount: [2] [3].
The Tarbotton monument on the site of the St. Ann's Well (see 1856) was torn down to allow a bridge for the Nottingham Suburban Railway to be built across the Wells Road.

1888

Local Government Act was an extension of the 1835 reform act; the latter was designed to reform corruption within Municipal Corporations (towns), whilst this Act was designed to extend the same reforms towards Counties. The scope of the Act was also extended towards 10 named cities (which included Nottingham) which would be "dealt with as separate counties", and were henceforth called "County Boroughs". Amongst the many powers and responsibilities transferred to the councils (as one example) was to be able to build Police Stations.
Homes built on Fishpond Drive: [4] [6] (completed 1890).
Homes built on Kenilworth Road: [1 Iveston] [3 Kenilworth House].

1889
1890
1891

TC Hine retires. Only a few vacant plots remain within his 1855 plan for The Park. By 1918 that plan is complete with 355 houses.

1894
1895
1896
1897

June 18: City Status awarded to the town under a Royal Charter by Queen Victoria on the occasion of her Diamond Jubilee.
Stockdale Harrison-designed homes built on Cavendish Road East: [33 Redcliffe].
The Great Central Railway (GCR) constructed a girder truss bridge to carry it's trains over the MR station & to connect with it's Victoria Station (completed 1900). That bridge was in the identical position as the modern Karlsruhe Friendship Bridge that carries trams over and inter-connects with the rail station. The tunnel that took GCR trains to Victoria went under the centre of town, still exists, and emerges direct at the southern-wall of the basement of the existing Victoria Centre that replaced the former railway station (you need someone with a key to get ingress). The old concourse + tunnel entrance at the northern end also still exists 4 stories outside in the grassy area below the Victoria Parking Centre (you need to be tall to see over any of the walls, and careful not to fall), although there is now zero access to that tunnel.
June 14: Corporation purchases Nottingham and District Tramways Company Limited for £80,000 (equivalent to £9,660,000 in 2021); this is horse-drawn trams, although some experiments were made with steam-trams in 1880. The name of the corporation company is https://en.wikipedia.org/wiki/Nottingham_%26_District_Tramways_Company#Nottingham_Corporation_Tramways,_1897_onwards. *1899
Nottingham Suburban Railway + bridge over Wells Road completed.
Nottingham Corporation Act, which gave powers for the corporation to run an electric tram service (see also 1897).

1800s (late)
1900s early
1900
1901
1902

Bulcote Corporation Model Farm designed & constructed by Arthur Brown. This is an industrial farm intended to spread sludge from the Stoke Bardolph sewage farm (see 1878) & involved laying 150 miles of drains in addition to constructing the entire farm. It is now operated by STW & continues to operate in similar fashion (Grade Ⅱ listed).
April 30: Last horse-drawn tram service (the Forest Route) shuts down.

1903
1904
1905
1906
1908

Lawrence Bright-designed homes built on Lenton Road: [Barton House (the wiki uses the historical address of '1 Huntingdon Drive')].
Lawrence Bright-designed homes built on Huntingdon Drive: [2].
Nottingham Corporation Tramways got Parliament approval to replace 3 long-haul horse-trams with electric-tramcars (to Beeston, Arnold and Carlton). The 3 motor-buses obtained in 1906 had proven unreliable, with continual mechanical breakdowns. The last bus ran on 15 June. A replacement horse-tram was put in place whilst the electric infrastructure could be put in place. As the council insisted on twin-tracks that meant some property destruction + road-widening.

1909
1910
1911
1912

St James Church (parish of The Park, see 1807) was united with that of St John the Baptist (parish of The Marshes, see 1843). This lasted until 1933.

1913
1914

Goose Fair was cancelled after the outbreak of WW1 on July 28 and did not resume until after cessation on 1918 11 November.

1915
1916
1918

Chalers Lane / Cowe Lane renamed to Clumber Street & widened by 16′ (4.88m) following a gift of land from Duke of Newcastle. This street is considered to have the highest shopper footfall in Britain.
Nov: end of WW1; inflation was considerable.

1919
1920s

Old-town slums cleared. Housing stock in the area of The Marshes was reduced to less than two hundred.
A Parliament Bill granted powers for motorbus routes outside of the city.

1921

Sept 8: Unveiling of statue of Captain Albert Ball VC (Grade Ⅰ listed). Captain Ball VC was 20 years old, a native of Nottingham and considered to be the foremost aviator & fighter of his age. He died in action on 7 May 1917. Per Ardua Ad Astra.

1922
1923

After a long period of churn, Nottingham & Beeston Canals were owned by GNR.1862

1924

Trent Bridge widened from 40 foot to 80 foot (completed 1926).

1927
1928
1931
1932
1933

City boundary extended by addition of Bilborough & Wollaton, parts of Bestwood Park & Colwick, and part of Beeston Urban District.
St James Church (parishes of The Park & The Marshes — see 1912) was united with St Peter's Church, becoming St Peter and St James, St Peters Gate (Grade Ⅰ listed) when St James closed in 1935 (only the streetname remains).

1936
1937

GNR abandoned the section of the Nottingham Canal from Lenton to Langley Mill.
City of Nottingham replaced gas with electric lighting. The Park Estate chose to remain gaslit; that is still it's state today (220 lamp posts), and may be unique in England.

1938

The Park Estate was sold by the 8ᵗʰ Duke to Nuffield Trust, which in turn passed it on to Oxford University Chest. Most of the plots on The Park had been acquired on 99 year leases, and those leaseholds were now coming near their end, which meant falls in property values. For his part, the Duke had inherited a vast fortune via his wife (including the The Hope Diamond) & yet was a spendthrift with little income.

1941

May 8 + 9: St John the Baptist church (see St James in 1933) destroyed during a German air raid. What remained of the building was subsequently demolished. 4,500 houses destroyed in just one night, and hundreds of people killed & injured.

1945
1948
1951 Further boundary extension as Clifton & Wilford added.
1952 Park Estate leaseholders became entitled to buy their freehold.
1954
1955 The City Council bought the section of Nottingham Canal from Lenton to the city limits and began filling it in.
1960 nottshistory.org (pdf) maintain a PDF of a c1960 Burrows Street-Map of Nottingham. That means that it predates the many changes made to the Nottingham street-plan across the next 10 years.
1963 Start Date for Maid Marian Way. As in my home town of Hull, this was the local council conducting civic vandalism; they constructed a 2-lane motorway through the old Town, slicing across the middle of all the old streets and demolishing many ancient buildings in the process.
1969 Jul: Nottingham Council establishes the Castle Conservation Area, Clifton Village Conservation Area + The Park Conservation Area; this is 1, 2 + 3 of 174 Conservation Areas in Nottingham. These particular protected areas are centred on the Castle, Clifton Village + The Park Estate.

Nottingham has always been a Gemini as a town, with one tribe centred on The Castle & the other tribe centred on The Lace Market (the two tribes would meet & conduct common business within Market Square). The Park is firmly within the Royalist camp, being positioned close to The Castle.
1970 Worst of the 1845 Inclosure houses demolished in slum-clearance.
1983 Feb: Nottingham Council establishes the Nottingham Canal Conservation Area; this is 4 of 174 Conservation Areas in Nottingham. This particular protected area is centred on central section of Nottingham Canal.
1986 Oxford University surrenders it's remaining rights in The Park to the newly formed Nottingham Park Estate Limited (the management company run by the residents).
1990 May: Nottingham Council establishes the Station Conservation Area; this is 5 of 174 Conservation Areas in Nottingham. This particular protected area is centred on Nottingham Station.
1996 The Magistrates Court opened at canal-side off Carrington Street.
1997 June: Nottingham Council extends the Clifton Village Conservation Area (original declared in 1969); this is 2 of 174 Conservation Areas in Nottingham. This particular protected area is centred on Clifton Village.
1998
2020

Goose Fair was cancelled in this year due to the outbreak of the Coronavirus Pandemic, and also in 2021.
June 3: Nottingham Council establishes the Old Meadows Conservation Area; this is 6 of 174 Conservation Areas in Nottingham. This particular protected area is centred on the Meadows suburb.

From Nottingham Conservation Areas (map-pages), established under Section 69 of the Planning (Listed buildings and Conservation Areas) Act, 1990:

Conservation areas are parts of the city/county where special planning controls apply. Within conservation areas, there are tighter restrictions on the work that can be done without planning permission, and we must try to "preserve or enhance" the character of the area when we take decisions about whether or not to grant planning permission.
Location:
Lace Market, St Ann's, Nottingham, England, NG1 1PR, United Kingdom
---