A few days ago I forgot to spend a minute in an OSM editor. I had almost a month of consecutive edits, level 3 in OSM Streak with almost a hundred points. And then, after a hard day, I forgot about even opening a laptop. Neither an email, nor a telegram notification helped.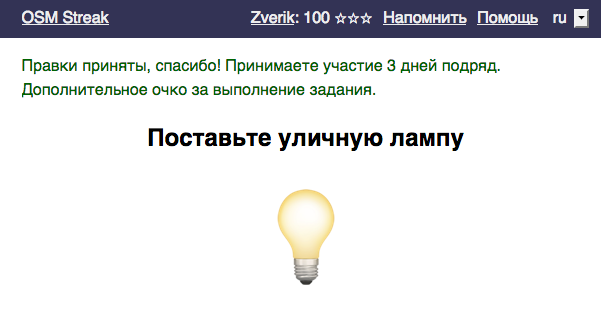 The next day I submitted my first changeset in a row. How much did I lose in the game? I had been receiving five points for each changeset (I was too lazy to complete tasks), now I get three, completing the tasks. The fourth level was two months ahead, now… I don't know, two and a half? 500 points is a long way to go.
I am practicing for mapping every day in the next year. Now I have seen how the streak could be broken, and to prevent that, I must not push mapping towards the end of a day, but do it the minute I see a notifidaction. Sometimes the task intimidates me: instead of opening the iD editor on a random place and mapping a building (which takes a minute), it requires opening JOSM, finding a specific place, looking at third-party services like Mapillary, remembering some piece of tagging, adding an imagery layer and uploading changes. All of this fits in five minutes, but there are days when I cannot spare that for OSM.
But seeing the point counter increase is still fun. I invite you to register in OSM Streak and spend a few months mapping. You might like it. Or maybe you will have a few ideas for the tasks.