In the U.S. mapper community, we often joke about how tagging dictates by out-of-staters or people from overseas amount to saying, "Fix your state!" We're such contrarians over here, probably because we live in such a messy place. In fact, my home state of Ohio exists primarily to give mapmakers heartburn and keep data consumers up at night, especially when it comes to boundaries. At least in this state, making assumptions about boundaries is almost as bad as making assumptions about names.
Administrative boundaries in an ideal world
OSM represents administrative areas as boundary relations that geographically encompass other boundary relations with higher admin_level=* values. In the early days before boundary relations became well-established, some mappers used to represent boundaries as multipolygon relations. The inner and outer relation roles stem from this usage. Data consumers often use similar code and tools to process both boundaries and multipolygons because so many well-known boundaries follow all the same topological rules.
The illustration that accompanies the wiki documentation for the admin_level=* key suggests a simple hierarchy of administrative areas, in which a larger area completely contains a smaller area and so on:
The City of Santa Catarina is wholly within the State of Nuevo León, Mexico. (Alex Covarrubias, public domain)
The humble township
You may be familiar with the most common kinds of boundaries in the United States: states, counties, and municipalities (cities, villages, and towns in some states). In addition to these boundaries, some states like Ohio have civil townships, which are devolved from county government. They provide certain services such as parks, cemeteries, and road maintenance with lightweight administrative overhead. In general, a county is completely subdivided into townships.
The Springfield Township Administration Building in Springfield Township, Hamilton County, Ohio. Some townships are very populous and, as a result, have an even more extensive government than many cities and villages. They even have their own flags. (Nyttend, public domain)
Like the more well-known kinds of administrative boundaries, township boundaries are eligible for inclusion in OSM because they're just as verifiable on the ground. Unfortunately, they were omitted from the original TIGER boundary import, which focused on incorporated areas rather than what the U.S. Census Bureau calls "minor county divisions".
A boundary sign for Washington Township, Lucas County, Ohio. (© Elevatorrailfan, CC BY-SA 4.0)
In the years since the import, Ohio's mappers have been adding township boundaries by hand, one by one. Delving into the intricacies of each boundary, you can learn about many edge cases that blow holes in the standard model presented by computer science textbooks. Local jurisdictions simply have less incentive – or disincentive – to conform boundaries to best practices.
Administrative areas form a tree – false
The following diagram shows the administrative areas that contain the twin border towns of West College Corner, Indiana, and College Corner, Ohio. The numbers on the left indicate the agreed-upon admin_level=* values for these types of boundaries. Townships are tagged admin_level=7, so that municipalities are tagged consistently as admin_level=8 in every state regardless of whether the state has townships.
West College Corner's situation is as straightforward as the illustration on the wiki. However, College Corner's situation isn't so straightforward: depending on where you stand in College Corner, you're either in one township or another and in one county or another.1 This is a fairly common situation in the U.S.: over 700 municipalities span county lines, and countless others span township lines.
West College Corner and College Corner are exceptional in one regard: they share a school district across state lines. There are only a handful of such arrangements in the country. It's uncommon because each state has a separate educational system, making it difficult to align educational standards and athletic team eligibility. But we don't map school district boundaries anyways, because they normally don't leave any trace on the ground.2
An administrative area belongs to each of the administrative areas that contains it – false
Maybe it's no big deal that a single municipality can exist in multiple counties or townships. After all, municipal and county governments both answer directly to the state government, while a township government answers to the county that erected it. A reverse geocoder can simply say the municipality "belongs" to whatever township or county the input location happens to fall within.
As it turns out, only in Ohio, a township can also extend beyond the county that originally erected it.3 For example, Columbiana County's Fairfield Township now includes portions of neighboring Mahoning County but remains one of Columbiana County's townships, not one of Mahoning County's:4
This happened because the City of Columbiana annexed some land in Mahoning County and wanted to keep all its residents within the same township. Under state law, Mahoning County was obliged to take some land away from its Beaver Township and give it to Columbiana County's Columbiana Township while keeping it within Mahoning County.
Most likely, the city wanted to keep things simple and consistent for residents, township employees, and election volunteers. Evidently the mapmakers weren't considered. Even the U.S. Census Bureau has to correct itself every ten years. But after the city's newest annexation of Beaver Township land, the city forgot to make the county update the township boundaries, so part of the city is in Beaver Township anyways.
An administrative area's name is unique within its immediate containing area – false
Maybe it's no big deal that an administrative area can "leak" into another administrative area that it doesn't belong to. Why would government reporting structures matter to a reverse geocoder, anyways? For one thing, conflating townships with each of their containing counties would result in naming conflicts.
It's rare for two municipalities to share the same name in the same county or even the same state. For practical purposes, any community subject to a naming conflict had to rename itself if it wanted a post office, even if it could've technically kept its conflicting name for official purposes. The U.S. Postal Service requires every post office to have a name that's unique within the state. The postal city name is part of every address, so it's the de facto community name in commerce. But post offices are seldom named after civil townships, so it's very common for two adjacent counties to have townships by the same name.
For example, Franklin County's Washington Township also extends into Delaware and Union counties due to annexations by the City of Dublin.5 But Union County already had its own Washington Township at the opposite corner of the county. Whenever Union County's board of elections holds township trustee elections, they have to clarify which Washington Township is which.
For once, a municipality is in just one township! Dublin would never get sloppy about township boundaries like Columbiana did. In fact, Dublin went all the way to the Ohio Supreme Court to defend its right to force Delaware County to give some of Delaware County's Concord Township to Franklin County's Washington Township while keeping it as a part of Delaware County.
For now, Franklin County's Washington Township remains mostly in Franklin County, so a reverse geocoder may get lucky and associate the township with the correct county. But there's no guarantee that Washington Township's centroid will remain in Franklin County: in several years, it's entirely possible that the Dublin – and thus Washington Township – will annex more unincorporated land in Union County as Columbus metropolitan area continues to experience urban sprawl. Even then, it will remain one of Franklin County's townships.
Union County's Washington Township is so rural that it has no incorporated city or village within its boundaries – no part of the township coincides with an admin_level=8 boundary relation. In fact, all of the other townships in these diagrams also have some unincorporated territory, but including this detail would've forced me to make these diagrams three-dimensional.
An administrative area's parents have a consistent administrative level – false
OK, so Dublin's "parental" relation structure is a mess, but at least every part of Dublin is consistently contained by some township. Can we at least assume a municipality's parents are all townships at the same administrative level of 7? Nope.
Mapmakers aren't the only ones who tire of the tortured relationship between townships and municipalities. Many cities and villages across the state have done away with township administration within their borders, folding township services into the municipal government. To abolish township administration of a given territory, a city "withdraws" from its surrounding township by petitioning the county to erect a new township that's completely covered by the city. Under state law, this "paper township" would have no government and would only exist in the board of county commissioners' meeting minutes, as well as the occasional mapmaker's diary post. Over 250 cities and villages have withdrawn from a township.
For example, the state capital, Columbus, has caused Franklin County to erect a "Montgomery Township" that exists only as a paper township. It occupies land formerly part of many townships in three different counties, including Franklin County's Washington Township:6
As in Dublin, the whole city can enjoy the same township services like firefighting and parks consistently, but these services are provided by the city without any border nonsense.
If only. Columbus also neglected to ask Delaware County to attach some bits of Delaware County's Orange Township to Franklin County's "Montgomery Township". So a small part of the city is under township administration while the rest of it is not. Much bigger problems can arise from discrepancies in township boundaries following an annexation, like the time when Cincinnati incompletely annexed a township, upsetting the balance of power between Democrats and Republicans in the U.S. House of Representatives.
Ohio's mappers avoid mapping paper townships because they leave no trace in the real world. Instead, we leave a gap at admin_level=7, just as in states that have no townships. At one point, we considered tagging withdrawn municipalities as admin_level=7 to reflect their independent status, but we decided that nuance was more obscure than the distinction between townships and municipalities, so we opted to keep all municipalities at the same administrative level. Just imagine if we had decided on admin_level=7;8 for the 27 or so partially withdrawn cities like Columbus.
We could stop mapping boundaries and these headaches would go away – false
So far, this post has been fodder for mappers who have been skeptical of boundary mapping in the first place. What if they got their way and we just avoid hand-mapping the township boundaries that the TIGER import omitted? There would be other headaches, but without the boundaries to explain why.
Ohio doesn't just geek out about boundaries; it also geeks out about highway route designations. It's the only U.S. state where every county chooses its own route marker design (also known as a route shield) for county routes:
But it gets better: in some counties, every township chooses its own route marker design for township routes too.7 The OpenStreetMap Americana renderer recently added support for 92 different township route shields based on network=* values that assume a simple hierarchy (which we already disproved above). It's very common for a road to be built between two townships so that the road's centerline is exactly aligned to the boundary between them:
Six roads meet at this four-way intersection at the tripoint of Miami, Pleasant, and Union townships in Logan County: Miami Township Road 33, Pleasant Township Road 33, Union Township Road 33, Miami Township Road 45, Pleasant Township Road 45, and Union Township Road 45.
There are even cases where two adjacent counties have adjacent townships that go by the same name but use distinct route shields – and where a township road was built down the middle: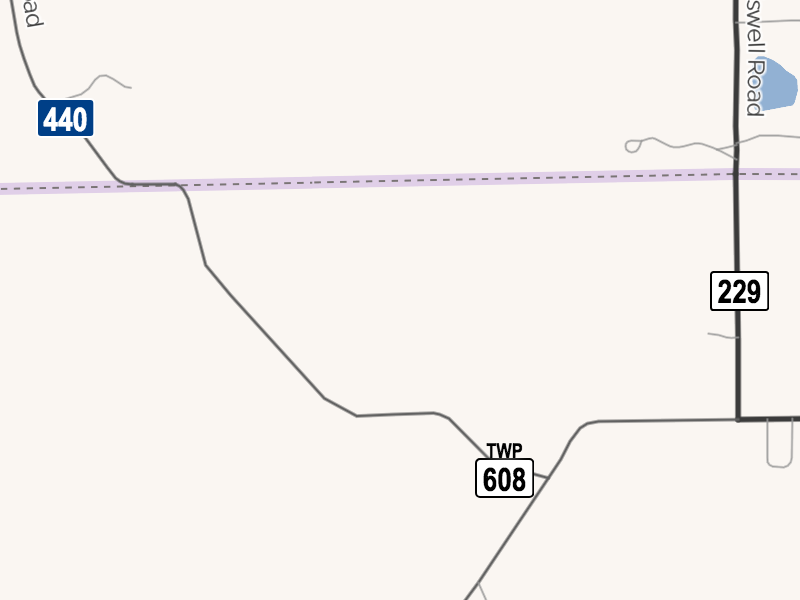 A short segment of roadway straddles the border between Salt Creek Township, Holmes County, and Salt Creek Township, Wayne County, with Holmes County's Township Road 608 on one side and Wayne County's Township Road 440 on the other.
Fortunately, I've yet to encounter a township road numbered and signposted as part of a township belonging to a county in a different county than the road (whew). It's probably unlikely because the main reason for these extraterritorial townships is a city's annexations, and a city is usually responsible for all the local roads within its territory. But I've made each of the unreliable assumptions above at some point in the past, so I'm not about to wager about the impossibility of this edge case either.
The bottom line
If you've managed to digest all these oddities about township boundaries, you'll probably come to the same conclusion I did: that ultimately, boundaries are just lines, and administrative areas are just independent overlays in a Venn diagram, or maybe an org chart with lots of dotted lines. There, I fixed it.
If you're attending this week's State of the Map U.S. conference in Arizona, a state sadly devoid of townships, I look forward to geeking out with you about these and other mind-boggling aspects of our corner of the world. If you'd like to help us map the rest of Ohio's townships, in all their topology-defying glory, jump into the #local-ohio channel in OSMUS Slack.
A township-operated water tower in Madison Township, Richland County, Ohio. (Nick Juhasz, public domain)
---
Governmental Unit Reference Map (2021): College Corner village, OH, Boundary and Annexation Survey, United States Census Bureau ↩

What's a rule without an exception? The Mason City School District put up welcome signs along its entire boundary. Naturally, the district covers more than just the City of Mason and extends into two counties. ↩

Thanks to Wikipedia users GeoMac and Ibagli for thoroughly disproving my earlier assumption that state law prevented this from happening. ↩

Governmental Unit Reference Map (2021): Fairfield township, OH, Boundary and Annexation Survey, United States Census Bureau ↩

Governmental Unit Reference Map (2021): Washington township, OH, Boundary and Annexation Survey, United States Census Bureau ↩

Governmental Unit Reference Map (2021): Columbus city, OH, Boundary and Annexation Survey, United States Census Bureau ↩

The City of Fremont, which sits in two different townships, even has its own route shields for city routes, because why not? ↩
Location: Schooner Bay, Columbiana, Fairfield Township, Mahoning County, Ohio, 44408, United States