It's London Tree Week. I saw someone tweeting at OSMLondon asking "Can you help identify tree named pubs In London?". Why yes I believe we can! We've always specialised in pubs. We even used to have a tree named pub "The Mulberry Bush" as one of our OSMLondon regulars.
This seemed like fun, so I went ahead and did it. Here's the tree-named pubs of London on a map.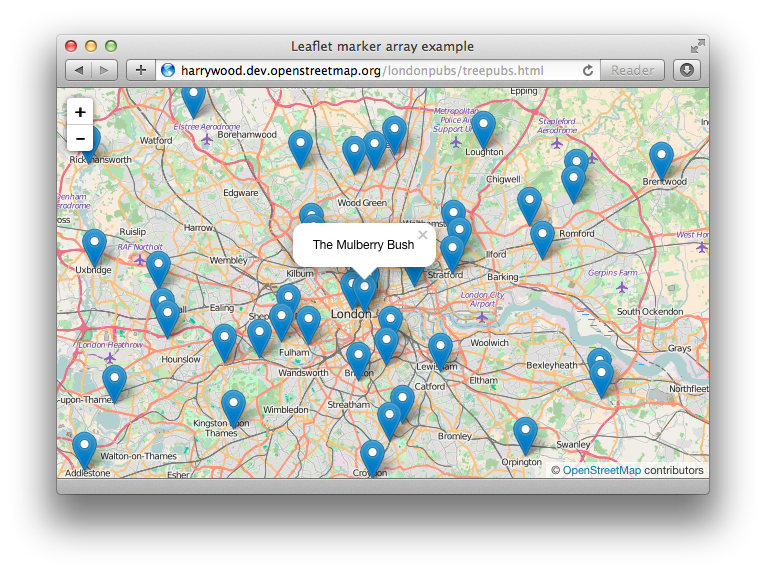 My method was maybe a bit old these days. See this bash script which fetches the London metro extract, uses osmosis to get pub nodes, then pub ways, then merge pub ways and nodes, then uses osmconvert to get centroids on the ways, then convert to CSV. Then grep to filter 'Bush', 'bush', 'Tree' and tree' (but not 'Street') [Update: I'm now also finding tree type names. See comments below], to result in treepubs.csv. After that I fiddled with the CSV to make it a javascript array, and loaded that into my leaflet marker array example, and loaded in the treepubs as markers. Job done.
I found that to be the easiest way to do it, having done similar things before (This old blog post describes similar osmosis/osmconvert steps for example) …but there's probably many different much easier ways of pulling up a map of tree-named pubs in London (or at least getting as far as the csv output). So that's an exercise for the reader.
I'm quite sure we should be able to do a single Overpass API query to get the pubs of London (as centroids for ways).
I once saw a talk by people from Tableau (GIS software) Visualising the Great British Pub with OpenStreetMap data and Tableau which was all about mapping pub names. They could get it done that way for sure.
Pub names are always fun, but we should probably look to do something more directly related to London Tree Week. We have a lot of trees mapped in London. Maybe we should visualise this. Make a dedicated tree mapping app or something. No doubt London's tree data is still skewed towards Southwark where we've got them all imported. Tree mapping party anyone?