Down to the Border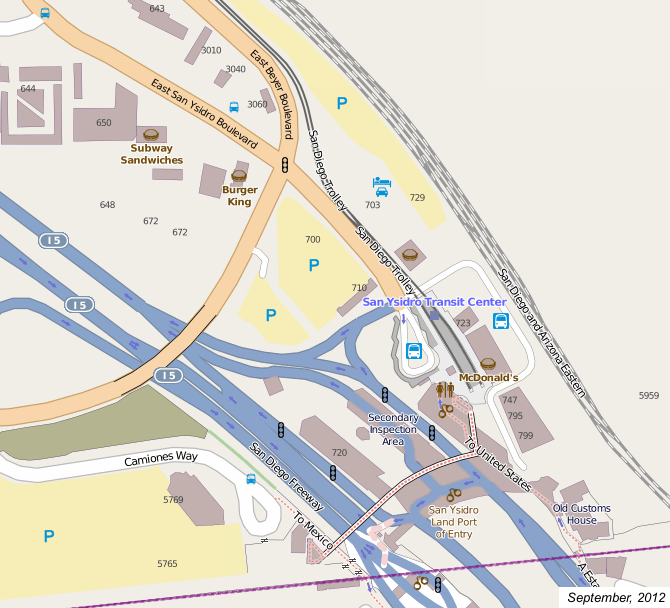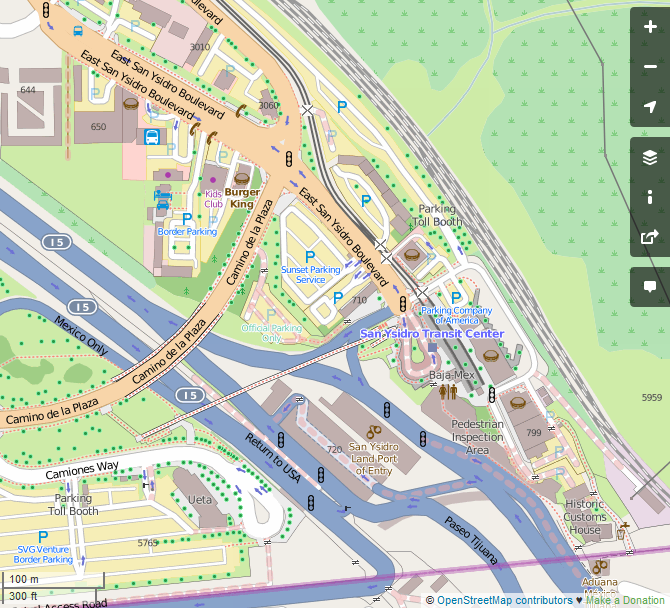 I was down in the San Ysidro area which is the southernmost suburb of San Diego, California a few weeks ago. I visited (but did not cross) the busiest worldwide land border crossing which separates the USA and Tijuana, Mexico. There were lots of features that I found which needed to mapped on the US side alone. In fact it took me 8 separate changesets to get all the data tagged into JOSM and uploaded to OSM. Anyway, here are some features:
San Ysidro Port area features:
San Ysidro Transit Center and surrounding bus stations.
Numerous fast food outets including the McDonald's Trolley Station.
Tagged the bathrooms at the Trolley Station McD's as a fee-based toilet.
Found and tagged a few other fast food outlets in the area including another McDonald's--Customers can use those toilets free :)
Benches and drinking fountain amenities along the pathway to Mexico near the historic Old Customs House.
Drinking fountains at the transit station which are located under the pedestrian bridge.
Numerous Baja-Mex currency trading outlets.
Locations of border crossing parking lots.
Locations non-public parking lots which are tagged as "private" or "customer".
Detailed-mapped area sidewalks, crossings and landscaping.
El Bordo, Tijuana - Known by some as "Deportee Purgatory" (loc_name), El Bordo is a makeshift shantytown within the dry mud and concrete Tijuana River between the Mexican port and downtown Tijuana. Unofficial estimated population is 2,000-3,000 according to sources. Added the neighborhood as a point of awareness.
Note that the address numbers, and some of the public bus stops, the transit station and a few shops and restaurants were already added by other OSM mappers.
By the way, construction upgrades of the San Ysidro port are moving along which includes operations of the new port office/station building, the shelter covering the northbound primary vehicle inspection area and the secondary inspection area shelter. The northbound pedestrian inspection area is what's left of the previous port building. Also, the primary southbound inspection area on the US side now uses a temporary tent shelter. Across the border, the southbound Mexican port was moved alongside the Tijuana River a few years ago. US officials plan to realign the southbound lanes over the existing SVG Venture parking lot on the US side to better align the southbound lanes with the El Chaparral port.
http://www.openstreetmap.org/#map=16/32.5413/-117.0290
If you're planning on editing this region, please feel free to do. But keep in mind that the Bing and other satellite imagery are a few years old and most still show the previous port building, pedestrian bridge and southbound routing which are demolished and no longer there.
Happy mapping from The Temecula Mapper!
Location:
Park Haven, San Diego, San Diego County, California, 92173, United States of America
Leave a comment